Impressive top class guitar strap, black - Handmade in Germany

High-end accessory for your guitar!
Are you looking for a guitar strap that visually pulls out all the stops, fits gently around your shoulder and gives you long-lasting pleasure? If so, our pink vintage guitar strap, "Tropical Berry", will definitely inspire you.
This extraordinary guitar strap combines a unique look with masterful quality, maximum safety, best wearing comfort and perfect grip. It is the perfect piece of jewelry for your instrument.
Handmade with perfection, down to the slightest detail, in our manufactory in Germany. Made to last!
Features:
Shiny appearance (shimmer effect)

Non-slip underside made of cotton

Soft, thick edges and valuable feel

4 mm thick genuine leather end (vegetable tanned)

Lovingly handmade in Germany
You can only get this extraordinary vintage guitar strap from us!
Do you prefer another color? This strap is also available in yellow, light blue, dark blue, red, black, pink and white.

Note: Depending on the incidence of light, the base tone may appear lighter, or sometimes darker.
▶ For fastening, we recommend our guitar strap fastener "Big Straplocks" > View Straplocks

Details
Dimensions and structure
Length: 100 - 165 cm (40" - 65")
Width: 5 cm (2")
Weight: 170 g
Thickness: 3.5 mm
Material top: Noble artificial silk fabric

Material bottom: Cotton

Design: Vintage floral pattern
Base colour: pink

Accent colors: blue, gold, silver

Colour cotton: blue

Color metal parts: antique brass
Color leather: medium brown / reddish brown

4 mm thick genuine leather / imitation leather ends
Features
Soft and flexible
Excellent grip
Excellent wearing comfort
Unique look and feel
Secure fastening leather end pieces
incl. fastening cord
compatible with acoustic, western, bass and electric guitar
Made in Germany

Top class Wearing Comfort
Your shoulders will love this stylish vintage guitar strap!
The strap has a
remarkable wearing comfort
thanks to the soft materials. The
soft strap edge
gently wraps around the neck and shoulder. Furthermore, the sewn-on cotton strap provides a
good grip
. Thus, the strap does not slip back and forth unintentionally. The fastening made of 4 mm thick genuine leather (optionally synthetic leather) ensures a
stable and reliable hold
of your instrument. Thus, you always have full security and can concentrate 100% on playing with your guitar.
Customer Reviews
09/21/2021
Peter J.

Austria
Perfekt
Sehr schöner Gurt - außergewöhnlich!
09/14/2021
Thomas D.

Germany
Einfach grandios, phänomenal und der Beste und Schönste...
...Gitarrengurt den ich jemals besessen habe. Saubere Verarbeitung, super schönes Motiv und richtig leicht und bequem zu tragen. Hier merkt man die Liebe mit der diese Gurte gefertigt werden und das HANDMADE IN GERMANY. Steyner Straps machen (leider) süchtig, :-)) und so habe ich mir schon den nächsten ausgesucht den ich einfach bestellen muss. Danke Lisa, dafür dass Du Deiner tollen Idee Leben eingehaucht hast und bitte bleib uns erhalten.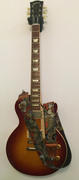 09/21/2021
Steyner Straps
Vielen Dank für Deine tollen Worte, Thomas! Darüber freuen wir uns riesig :-)))) Und keine eine "Steyner Gurt-Sucht" haben wir nichts einzuwenden ;-) Liebe Grüße, Lina
09/10/2021
Theo W.

Germany
Wie immer Top
Sieht genauso aus wie ich ihn mir vorgestellt habe mittlerweile mein fünfter Gurt
09/12/2021
Steyner Straps
Lieber Theo! Vielen Dank für Deine Worte. Schön, dass Du so zufrieden mit unseren Gurten bist :-D Liebe Grüße, Lina
09/08/2021
Edgar K.

Germany
09/07/2021
Melanie

Germany
Noch besser als gedacht...
Ich habe seit knapp zwei Jahren schon zwei Steyner Straps und bin eh schon von der Qualität überzeugt und habe jetzt die beiden Limited Editions als Taschengurt bestellt und bin wieder mal einfach nur total begeistert. Die sehen so toll aus - alleine schon für sich, aber an der Tasche echt ein Traum! Ich empfehle die Straps laufend weiter und konnte schon einige Freundinnen davon überzeugen.
09/07/2021
Steyner Straps
Liebe Melanie, ganz herzlichen Dank für Dein schönes Feedback und die tollen Fotos. Das freut uns riesig, dass Du so zufrieden bist. Ganz viel Freude weiterhin mit den neuen Taschenbegleitern. Lina
09/03/2021
Edgar

Germany
Hochwertig und wunderschön
Ich bin ja nur begeistert von diesen wunderschönen Gitarrengurten. Was mir auch sehr gefällt: Man bekommt sie mit Löchern für Straplocks. Bislang mühsam die Gurte von Hand erweitert und dennoch haben die Locks wegen die üblichen Schlitz nicht gut gehalten und sich gelöst. Mit diesen dicken, weichen Leder und der Passgenauigkeit sitzen die Locks nach einmaligem Anziehen satt und das Leder wirkt wie eine Federscheibe. Das musste ich jetzt loswerden, aber natürlich kauft man das Band wegen der Schönheit, Leichtigkeit und dem Tragekomfort.
08/31/2021
Martin D.

Germany
Alles gut
Der Gurt ist ziemlich cool und wirklich sehr, sehr schön. Bin sehr angetan und habe die richtige Wahl getroffen. Amtliche Verarbeitung, super Service, alles gut eben. Ein Hinweis vielleicht: es wäre schön, wenn es die tollen, gewebten Motive auch in etwas breiter, also 7-8 cm geben würde... Besten Gruß, Martin.
08/26/2021
Chery D.

Germany
Auch als Geschenk - einfach perfekt !!
Ich selbst habe schon zwei dieser wunderschönen Gurte, und das sind noch nicht die letzten. Denn irgendwie braucht jede Guitar und jeder Bass seinen eigenen Gurt und davon habe ich noch einige ... :-) Nun habe ich einen Gitarrengurt verschenkt, und der ist mega gut angekommen!! Einfach genial. Ein besseres Geschenk kann man einem Musiklehrer wohl nicht machen :-) Paisley Gitarrengurt blau – Indian Ocean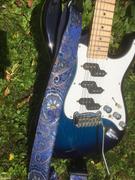 08/12/2021
Birgit D.

Germany
08/06/2021
Marek

Germany
Besser geht nicht!
Bestellt auf gut Glück. Die ganzen positiven Bewertungen haben mich dazu bewogen zuzuschlagen. Was auch der Grund für meine weitere positive Bewertung ist. Diese Gurte sind nicht billig! Aber jeden Cent wert! Es ist Schade das die Qualität und das Schimmern über die Website Fotos schlecht darzustellen ist. Wer aber den Willen und das Geld hat, so einen Gurt sein eigen nennen zu können, wird nicht enttäuscht werden. Hab mir schon meinen nächsten ausgeschaut. Fehlt leider noch das Kleingeld. Dafür weiß ich das ich damit auf jeden Fall happy sein werde. Grüße ins Ruhrgebiet ( bin gebürtiger Dortmunder)! Marek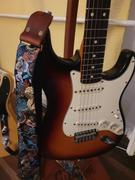 08/08/2021
Steyner Straps
Lieber Marek, ganz herzlichen Dank für Deine tolle Bewertung. Wir freuen uns riesig über das Feeback und senden Dir liebe Grüße zurück aus dem Ruhrpott :-) Die Steyner Crew