Impressive top class guitar strap, black - Handmade in Germany

High-end accessory for your guitar!
Are you looking for a guitar strap that visually pulls out all the stops, fits gently around your shoulder and gives you long-lasting pleasure? If so, our pink vintage guitar strap, "Tropical Berry", will definitely inspire you.
This extraordinary guitar strap combines a unique look with masterful quality, maximum safety, best wearing comfort and perfect grip. It is the perfect piece of jewelry for your instrument.
Handmade with perfection, down to the slightest detail, in our manufactory in Germany. Made to last!
Features:
Shiny appearance (shimmer effect)

Non-slip underside made of cotton

Soft, thick edges and valuable feel

4 mm thick genuine leather end (vegetable tanned)

Lovingly handmade in Germany
You can only get this extraordinary vintage guitar strap from us!
Do you prefer another color? This strap is also available in yellow, light blue, dark blue, red, black, pink and white.

Note: Depending on the incidence of light, the base tone may appear lighter, or sometimes darker.
▶ For fastening, we recommend our guitar strap fastener "Big Straplocks" > View Straplocks

Details
Dimensions and structure
Length: 100 - 165 cm (40" - 65")
Width: 5 cm (2")
Weight: 170 g
Thickness: 3.5 mm
Material top: Noble artificial silk fabric

Material bottom: Cotton

Design: Vintage floral pattern
Base colour: pink

Accent colors: blue, gold, silver

Colour cotton: blue

Color metal parts: antique brass
Color leather: medium brown / reddish brown

4 mm thick genuine leather / imitation leather ends
Features
Soft and flexible
Excellent grip
Excellent wearing comfort
Unique look and feel
Secure fastening leather end pieces
incl. fastening cord
compatible with acoustic, western, bass and electric guitar
Made in Germany

Top class Wearing Comfort
Your shoulders will love this stylish vintage guitar strap!
The strap has a
remarkable wearing comfort
thanks to the soft materials. The
soft strap edge
gently wraps around the neck and shoulder. Furthermore, the sewn-on cotton strap provides a
good grip
. Thus, the strap does not slip back and forth unintentionally. The fastening made of 4 mm thick genuine leather (optionally synthetic leather) ensures a
stable and reliable hold
of your instrument. Thus, you always have full security and can concentrate 100% on playing with your guitar.
Customer Reviews
06/17/2021
Claus B.

Germany
Wunderschöner Gurt - Top Beratung!
Mein neuer Gurt ist ein Traum! Danke Lina für die tolle Beratung zu der dieses Mal ja nicht ganz einfachen Farbe der Gitarre. Hier bei Steyner stimmt Alles, von der freundlichen und engagierten Chefin Lina, bis zum perfekten Produkt, hergestellt in deutscher Handarbeit zu einem top Preis. Ich werde sicher auch meine nächste Gitarre wieder mit Steyner-Gurten ausstatten. Weiterhin viel Erfolg - ich empfehle Euch auf auf jeden Fall weiter!
06/13/2021
Arnd W.

Germany
Feedback
Absolut zufrieden!
06/08/2021
Leonhard W.

Germany
Lohnt die Investition
Sehr schöner Gurt, weich und angenehm auf der Schulter, macht aber trotzdem einen sehr stabilen Eindruck. In Verbindung mit den Steyner Straplocks eine harmonische und sehr Vertrauen erweckende Sache.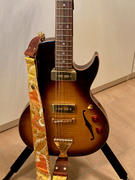 06/09/2021
Steyner Straps
Danke für das Bild und das Feedback, Leonhard! Tolle Kombi! Wir freuen uns.
06/06/2021
Ronny W.

Germany
06/06/2021
Ronny W.

Germany
Ein echter Hingucker
Ich habe lange überlegt welcher Gurt zu meiner Schecter in Transpurple Burst passt und hab mich dann für den pink Tropical berry entschieden. Sieht super dazu aus und ist wie alle Steyner Straps top verarbeitet!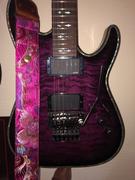 06/07/2021
Steyner Straps
WOW! Super chic! Danke für das geniale Foto! :-)
06/04/2021
Jürgen

Germany
Bin begeistert
Der gut ist sehr solide verarbeitet, sitzt gut und ist bequem. Sieht todschick aus. Das Mango-Orange-Gelb schimmert golden. Klasse! Die Farben sind exakt so, wie auf dem Foto zu sehen. Der Gurt ist auf jeden Fall sein Geld wert. Die Ledergurtenden sind stabil und halten sicherlich lange. Habe den Gurt an eine matt-schwarz lackierte Gitarre angebracht. Ein perfektes Paar!
05/25/2021
Peter S.

Germany
05/24/2021
Leonard F.

Germany
Einzigartig
Alle, die den Gurt gesehen haben fanden ihn außergewöhnlich nice. Sehr filigran und robust!
05/25/2021
Steyner Straps
Danke für das Feedback, Leonard :-)
05/23/2021
Peter B.

Germany
Toller Gurt, Eastern Ocean
Also zuerst ein Kompliment für die sehr übersichtliche und schnelle Abwicklung meiner Bestellung, ich wurde immer per Mail über den aktuellen Stand der Bearbeitung informiert. Vorbildlich. Der Gurt selbst kommt in einer stabilen und schönen Geschenkverpackung und ist ein Hingucker. Schöne Farben, beste Verarbeitung, stabile Endstücke aus Leder. Prima finde ich die Möglichkeit, bei den Gurtpinlöchern unterschiedliche Durchmesser zu wählen. Sonst habe ich immer für die Straplocks das Loch vergrößern müssen. Der Gurt ist leicht, die Rückseite angenehm rau, so dass die Gitarre nicht auf der Schulter verrutscht. Ich bin mir sicher, das ist nicht der letzte Steyner-Gurt, den ich bestelle. Schließlich spiele ich auch häufig Bass.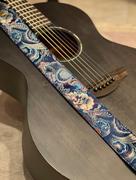 05/24/2021
Steyner Straps
Hallo Peter, ganz lieben Dank für Deine Worte und das schöne Bild. Wir freuen uns sehr, dass Dir nicht nur der Gurt, sondern auch alles rund herum gefallen hat. Viele Grüße vom Steyner Team und ganz viel Spaß beim Gitarre spielen.
05/23/2021
Siegbert L.

Germany
Echt begeistert
Bin echt begeistert, tolles aussehen und sehr gute Qualität.
05/23/2021
Steyner Straps
Das freut uns sehr. Danke für das Feedback :-)