Vintage Guitar Strap Black - Tropical Nights
Regular price
140 €
Sale price
130 €
Unit price
per
Sale
Sold out
High-end guitar strap, black - Handmade in Germany

Unique accessory for your guitar!
Are you looking for a guitar strap that visually pulls out all the stops, fits gently around your shoulder, and lasts a lifetime? If so, your search ends with our black vintage guitar strap, "Tropical Nights".
This extraordinary guitar strap combines a unique look with master-built quality. It provides maximum comfort, safety, and a perfect grip. It is the perfect accent for your instrument.


Handmade with perfection, down to the slightest detail in our shop in Germany. We pour love into every stitch.
Features:
Shiny appearance (shimmer effect)

Non-slip underside made of cotton

Thick edges with a soft, sublime touch

4 mm thick genuine, broken in leather (vegetable tanned)

Lovingly handmade in Germany
You can only get this extraordinary vintage guitar strap from us!
This strap is also available in yellow, light blue, dark blue, red, black, pink and white.

Note: Depending on the incidence of light, the base tone may appear lighter, or darker.
▶ For fastening, we recommend our guitar strap fastener "Big Straplocks" > View Straplocks

Details
Dimensions and structure
Length: 100 - 165 cm (40" - 65")
Width: 5 cm (2")
Weight: 170 g
Thickness: 3.5 mm
Material top: Noble artificial silk fabric

Material bottom: Cotton

Design: Vintage floral pattern
Base colour: Black / Anthracite

Accent colors: red/orange, gold, silver

Colour cotton: black

Color metal parts: antique brass
Color leather: medium brown / reddish brown

4 mm thick genuine leather / imitation leather ends
Features
Soft and flexible
Excellent grip
Excellent wearing comfort
Unique look and feel
Secure fastening leather end pieces
incl. fastening cord
compatible with acoustic, western, bass and electric guitar
Made in Germany

Top class Wearing Comfort
Your shoulders will love this stylish vintage guitar strap!
The strap has a
remarkable wearing comfort
thanks to the soft materials. The
soft strap edge
gently wraps around the neck and shoulder. Furthermore, the sewn-on cotton strap provides a
good grip
. Thus, the strap does not slip back and forth unintentionally. The fastening made of 4 mm thick genuine leather (optionally synthetic leather) ensures a
stable and reliable hold
of your instrument. Thus, you always have full security and can concentrate 100% on playing with your guitar.
Gravuroption


Give your guitar, bass or ukulele strap a personal touch
For an extra charge of €15 you can have your strap engraved with a personal text or picture (in black) on the front of the rear leather end. The manufacturing will take about 2 days longer.

This is how it works:
If you have ordered a belt "with an engraving", you will then receive an email with information about the engraving process. Simply reply to this mail with your engraving text and the desired font.




Read more about our > guitar straps and bass straps with engravings
Maße & Eigenschaften

Spezifikationen:

Länge: 100 - 165 cm (40" - 65") 
Breite: 5 cm (2")
Gewicht: 170 g
Gurtdicke: 3,5 mm
Grundfarbe: Schwarz / Anthrazit
Akzentfarben: Rot/Orange, Gold, Silber
Farbe Baumwolle: Schwarz
Farbe Hardware: Vintage-Messing
Farbe Leder: Mittelbraun / Rotbraun

Material

Oben: Kunstseidenstoff
Unten: 100 % Baumwolle
Echtlederenden (4 mm): P

flanzlich gegerbtes Rindsleder

Alternativ: Kunstlederenden (2,5 mm): T

extiler Grundträger + Kunststoffbeschichtung

Eigenschaften 

Weich und flexibel
Ausgezeichneter Grip
Hoher Tragekomfort
Sehr wertige Haptik und Optik
Sichere Befestigungsendstücke
inkl. Befestigungskordel
kompatibel mit Akustik-, Western, Bass- und E-Gitarre
Made in Germany 
Lochgröße

So ermittelst Du die passende Gurtlochgröße:
Da die Art und Größe der Befestigungspins an den Gitarren, Bässen und Ukulelen unterschiedlich sind, bieten wir passend dazu verschiedene Lochgrößen an. So kannst Du Deinen neuen Gurt sofort am Instrument befestigen und losspielen. Zur Ermittlung der richtigen Lochgröße, kannst Du einfach den äußeren Durchmesser des Gurtpins messen.

 

 

Bis 14 mm Außendurchmesser:
Lochgröße: 8 mm ( bei Standard Gurtpin)
Diese Lochgröße ist passend für alle Gitarren, Bässe und Ukulelen mit dem von Haus aus vorinstallierten Gurtpin. In der Regel ist dieser Trichterförmig. Für diese Gurtpins eignet sich daher ein Gurt mit 8 mm Loch und Schlitz auf beiden Seiten.



Ab 15 mm Außendurchmesser:
Lochgröße: 10 mm ( bei Maxi Gurtpin)
Wenige Gitarrenmarken verbauen größere Gurtpins an Ihre Gitarren. Z. B. PRS Guitars. Der innere Durchmesser des Pins liegt bei 9 oder 10 mm. Für diesen Maxi Gurtpin ist ein 10 mm großes Loch, sowie der Schlitz notwendig, um den Gurt über die äußere Scheibe zu stülpen. Der Durchmesser der Scheibe liegt ca. bei 13-15 mm.



Wenn am Endpin ein Kabel eingesteckt wird:
Lochgröße: 10 mm einseitig ( bei Klinkenbuchse)
Wenn Du eine Gitarre mit Tonabnehmer hast, kann es sein, dass der Anschluss für das Kabel gleichzeitig als Gurtpin dient. Um den Gurt auf diesem Anschluss am Korpus zu befestigen ist ein 10 mm Loch mit Schlitz notwendig. Der andere Gurtpin am Hals ist i. d. R. ein Standard Pin mit 8 mm. Bei Auswahl dieser Lochgröße erhältst Du einen Gurt mit 8 mm Loch vorne und 10 mm Loch hinten.



Bei bereits installiertem Gurtsicherungssystem:
Lochgröße: 10 mm ( bei Schaller Locks)
Wenn Du das Gurtsicherungssystem von "Schaller", "Warwick", "Dunlop" oder "Loxx" benutzt empfehlen wir das 10 mm Loch ohne Schlitz. Da das Loch genau über das Gewinde passt ist kein Schlitz notwendig. Diese Variante ist nur als "Genuine leather" verfügbar. Wenn Du veganes Leder möchtest, bekommst Du bei dieser Auswahl das größere Loch mit einem Schlitz.
Versand

Kostenloser Versand ab 50 €

Deutschland
DHL Premium Versand - Kostenlos
(Lieferzeit 1-3 Werktage)

Europa
Standard Versand - Kostenlos  (Lieferzeit 4-9 Werktage)
Priority Versand - 2,99 €  (Lieferzeit 3-7 Werktage)
DHL Express Versand - 35,99 € (Lieferzeit 1-2 Werktage)

Non-EU (zzgl. Einfuhr/Zoll)
Standard Versand - Kostenlos (Lieferzeit 10-19 Werktage)
Priority Versand - 2,99 €  (Lieferzeit 8-12 Werktage)
DHL Express Versand - 35,99 €  (Lieferzeit 3-7 Werktage)

Für weitere Infos findest du hier > Versandbedingungen

Mögliche Zusatzkosten bei Ländern außerhalb der EU:
Bei Lieferungen in Länder außerhalb der Europäischen Union (z.b. Schweiz, USA, Australien, Kanada) können im Einzelfall weitere Kosten anfallen, die wir nicht zu vertreten haben und die von dir zu tragen sind. Hierzu zählen beispielsweise Kosten für die Geldübermittlung durch Kreditinstitute (z.B. Überweisungsgebühren, Wechselkursgebühren) oder einfuhrrechtliche Abgaben bzw. Steuern (z.B. Zölle).

Weitere Informationen findest du beispielsweise unter http://ec.europa.eu/taxation_customs/customs/customs_duties/index_de.htm und zur Einfuhrumsatzsteuer unter http://auskunft.ezt-online.de/ezto/Welcome.do sowie speziell für die Schweiz unter http://xtares.admin.ch/tares/login/loginFormFiller.do.
Handgefertigter Gitarrengurt mit Suchtfaktor - Made in Germany
Wir fertigen diesen stilvollen Gitarrengurt in unserer kleinen Manufaktur im Ruhrgebiet, wodurch wir höchste Qualität garantieren können. Ausgewählte Materialien werden zu einem ganz besonderen Schmuckstück, das Deiner hochwertigen Gitarre in Qualität und Design gerecht wird. Garantiert. Denn warum solltest Du genau dort auf Qualität verzichten?

Möchtest Du wissen, wie sich der perfekte Gitarrengurt anfühlt? Dann sichere Dir Deinen Gurt für die Ewigkeit! Du wirst ihn lieben!

Design | Mit diesem Gitarrengurt ziehst Du Blicke magisch an!
Ein wunderschönes, florales Muster mit leuchtenden Farben und einem sanftem, leicht metallischem Schimmereffekt machen diesen Gitarrengurt zu einem unwiderstehlichen Eyecatcher.
Durch unterschiedliche Lichteinfälle entsteht auf der Oberfläche des Gurtes ein schimmerndes Farbenspiel. Besonders gut kommt dieser Metallic-Effekt im Bühnenlicht zur Geltung.
Hochwertige Metall-Hardware in Vintage-Messing Optik und Lederenden mit Pull-Up-Effekt komplettieren den einzigartigen Look vom Tropical Nights Gitarrengurt.
Komfort | Deine Schultern werden diesen Gitarrengurt lieben!
Eine optimale Gewichtsverteilung Deines Instrumentes wird durch die komfortable Breite von 5.1 mm, sowie den Materialeigenschaften der Auflage aus Baumwollgurtband erreicht. Dank des 2 mm starken Gurtbandes legt sich die weiche Gurtkante sanft über Deine Schulter und schmiegt sich bequem am Übergang zum Hals an.
Grip | Genieße zuverlässigen Halt und maximale Flexibilität zugleich
Für zuverlässigen, aber dennoch flexiblen Halt auf der Schulter, sorgt die grobe, rutschfeste Struktur des aufgenähten Baumwollbandes. Dieses haben wir speziell für diesen Zweck anfertigen lassen. Dadurch besitzt Du volle Kontrolle über die Rutschfestigkeit des Gitarrengurtes. Durch Deine Bewegungen bestimmst Du selbst, wieviel oder wenig er beim Spielen "sliden" soll.
"Extra lang" - Kompatibel auch mit Deinem Spieltyp.
Jede Strap length ist individuell. Auch Deine. Sie ist abhängig von Deinem Körperbau und der Position Deines Instrumentes beim Spielen. Trägst Du es eher nah und weit oben am Körper? Oder bist Du eher vom Typ "lässige Kniehöhe"?

Das Wichtigste ist, dass Du Dich dabei pudelwohl fühlst. Dank der extra langen, verstellbaren Länge von 100 - 165 cm bietet Dir der Tropical Nights Gitarrengurt umfangreichen Einstellungs-Spielraum. So kannst Du Deinen Gurt in nur wenigen Sekunden, auf Deine Wohlfühllänge bringen.

Und sollte Deine Länge doch außerhalb dieses Bereiches liegen, fertigen wir gerne eine Sonderlänge für Dich.
Sicherheit | Sorglos in die Saiten greifen und fokussiert Spielen
Um den Gurt zuverlässig und stabil am Instrument zu befestigen, kommt ein Befestigungsendstück aus extra starkem Echtleder* zum Einsatz. Wir verwenden eine Stärke von 3.5 - 4.0 mm für diese Endstücke, was ein Ausreißen des Gurtloches unmöglich macht. Das "Überstülpen" des Gurtes über den Gurtpin bedarf, aufgrund der Stärke, ein wenig Kraft und Geschick, doch sitzt die Befestigung schließlich bombenfest an der Gitarre.

So kannst Du Dich zu 100% auf das Spielen konzentrieren und Dich kompromisslos Deiner musikalischen Leidenschaft hingeben.


*Alternativ bekommst Du unsere Endstücke auch aus unverwüstlichem Kunstleder mit einer Stärke von 2.5 mm.


Add-Ons | Ein Gitarrengurt genau nach Deinem Geschmack!
Perfektes Gurtloch ab Werk
Bei uns kannst Du Deine passende Lochgröße direkt auswählen und musst nicht nachträglich am Gurtloch schneiden oder bohren.
Persönliche Gravur
Wir machen Deinen Gurt noch individueller und gravieren ihn mit Deinem Namen oder einem Logo.
Freude | Dieser Gitarrengurt macht richtig Spaß
Ein Gitarrengurt ohne Kompromisse - Das ist unser Design Gitarrengurt Tropical Nights.

Er ist Dein persönliches Statement. Ein Ausdruck Deiner Individualität! Einzigartig, cool und leidenschaftlich handgefertigt aus unserer Manufaktur.

Deine Traumgitarre kannst Du jetzt anschnallen und zwar ganz nah an Dein Musikerherz!
Perfect Match | Tropical Nights Lookbook
Zu diesen Gitarrenfarben lässt sich der Gurt am besten kombinieren: rot, orange, gelb, braun, sunburst, gold, schwarz und weiß. Für mehr Inspiration haben wir ein Tropical Nights Lookbook mit den schönsten Gitarren / Gurtkombinationen für Dich zusammengestellt.
Zum Lookbook
Customer Reviews
05/14/2022
Thilo M.

Germany
Ich bin begeistert
Zum Ablauf: Die Bestellung war einfach, die Lieferzeit super kurz, bereits am übernächsten Tag war das Paket da. Perfekt! Zum Produkt: Der Gurt ist einfach der Hammer! Die Verarbeitung ist Top, die Farben leuchten und der Oberstoff hat einen seidigen Glanz. Der Gurt auf der Schulter ist weich und drückt nicht, und was ich auch super finde: er ist stufenlos verstellbar. Da habe ich mir gleich einen zweiten für eine weitere Gitarre gekauft (anderes Muster, genau so perfekt) und ich bin sicher, dass meine restlichen Gitarren und Bässe auch noch mit einem solchen Hingucker geschmückt werden wollen!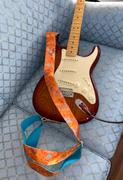 04/28/2022
Uwe

Germany
Wirklich schön!
Die Steyner Gurte sind schon etwas ganz besonderes,nicht nur das sie rutschfest und sehr komfortabel sind,sie sehen auch toll und edel aus!Ich habe mir gerade die neue Ibanez Pia gekauft,und habe auch nun den passenden Gurt für diese traumhaft schöne Gitarre!
04/26/2022
Marc-André H.

Germany
Mein 4. toller Gurt!!!
… und wieder eine absolute Schönheit! Es ist außerdem immer wieder absolut top, wie freundlich Lina und ihr Team sind und wie schnell sie die Lieferung auf den Weg bringen. Vielen herzlichen Dank! Das war ganz sicher nicht mein letzter Steyner Strap!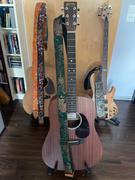 04/28/2022
Steyner Straps
Ganz lieben Dank für Deine Worte :-) Wir freuen uns riesig.
04/25/2022
John D.

United Kingdom
A Beautiful & Quality strap
Great being able to order with the option for larger holes to accommodate strap locks - and just a lovely quality item.
04/28/2022
Steyner Straps
Hello John. We are thankful for your kind words. Happy playing.
04/08/2022
Stefan H.

Germany
Wieder tolle Qualität
Mittlerweile habe ich nun schon den dritten Gitarren- bzw. Bassgitarrengurt hier bei Steyner bestellt und auch erhalten. Das ist einfach ganz tolle Qualität und sieht nicht nur schick aus, sondern trägt sich auch hervorragend. Diese Gurte sind einfach jeden Euro wert.
04/08/2022
Steyner Straps
Vielen Dank, lieber Stefan! Wir freuen uns riesig, dass Du so zufrieden bist und Dich unsere Gurte so sehr begeistern. Viele Grüße. Lina
03/31/2022
Jürgen O.

Germany
Prima Gurt
Die Verarbeitung ist wie immer spitze. Der Farbton passt wunderbar zu meiner weißen Gitarre. Hält bestimmt ein Leben lang....
03/30/2022
José B.

Switzerland
03/29/2022
Joachim M.

Germany
Cooler Gurt, dritter Teil
Das ist der dritte Gurt für eine der Gitarren meiner Tochter! Viele Grüße nach Hamm, Anna hat noch 20 weitere Gitarren Mindestens eine davon samt Steyner-Gurt präsentiert sie am 30.4.22 in der Werkstatthalle im Maxipark in Hamm beim rockigen "Tanz in den Mai". Viele Grüße aus Mülheim und Bremen
03/28/2022
Peter K.

Germany
Super !
... sehr schöner Gitarrengurt - mein erster Steyner, aber bestimmt nicht der letzte :-) Vintage Gitarrengurt schwarz - Eastern Nights (schwarz - silber)
03/25/2022
Stefan S.

Germany