Impressive top class guitar strap, black - Handmade in Germany

High-end accessory for your guitar!
Are you looking for a guitar strap that visually pulls out all the stops, fits gently around your shoulder and gives you long-lasting pleasure? If so, our blue vintage guitar strap, "Eastern Ocean", will definitely inspire you.
This extraordinary guitar strap combines a unique look with masterful quality, maximum safety, best wearing comfort and perfect grip. It is the perfect piece of jewelry for your instrument.
Handmade with perfection, down to the slightest detail, in our manufactory in Germany. Made to last!
Features:
Shiny appearance (shimmer effect)

Non-slip underside made of cotton

Soft, thick edges and valuable feel

4 mm thick genuine leather end (vegetable tanned)

Lovingly handmade in Germany
You can only get this extraordinary vintage guitar strap from us!
Do you prefer another color? This strap is also available in yellow, light blue, dark blue, red, black, pink and white.

Note: Depending on the incidence of light, the base tone may appear lighter, or sometimes darker.
▶ For fastening, we recommend our guitar strap fastener "Big Straplocks" > View Straplocks

Details
Dimensions and structure
Length: 100 - 165 cm (40" - 65")
Width: 5 cm (2")
Weight: 170 g
Thickness: 3.5 mm
Material top: Noble artificial silk fabric

Material bottom: Cotton

Design: Vintage floral pattern
Base colour: royal blue

Accent colors: light blue, red, beige

Colour cotton: blue

Color metal parts: antique brass
Color leather: medium brown / reddish brown

4 mm thick genuine leather / imitation leather ends
Features
Soft and flexible
Excellent grip
Excellent wearing comfort
Unique look and feel
Secure fastening leather end pieces
incl. fastening cord
compatible with acoustic, western, bass and electric guitar
Soft and flexible

Made in Germany

Top class Wearing Comfort
Your shoulders will love this stylish guitar strap!
The strap has a
remarkable wearing comfort
thanks to the soft materials. The
soft strap edge
gently wraps around the neck and shoulder. Furthermore, the sewn-on cotton strap provides a
good grip
. Thus, the strap does not slip back and forth unintentionally. The fastening made of 4 mm thick genuine leather (optionally synthetic leather) ensures a s
table and reliable hold
of your instrument. Thus, you always have full security and can concentrate 100% on playing with your guitar.
Customer Reviews
05/12/2021
Arno H.

Germany
Ein Custom Custom-Made Gurt
Heute kam mein mittlerweile 4ter Steyner Gurt an. Über Qualität, Funktionalität und Service habe ich ja schon in 2 weiteren Rezensionen genug geschwärmt (Siehe: Seatbelt Gitarrengurt Cruiser Deep Black, Vintage Gitarrengurt schwarz - Tropical Nights, Paisley Gitarrengurt schwarz – Indian Nights) und wenn ich da noch mehr zu schreibe, glaubt mir das keiner mehr, dass ich das ernsthaft so sehe. Das betrifft auch den Custom-Service, den ich schon 3 mal genutzt habe und der einfach nur begeistert. Als nächste Gitarre, die sich einen neuen Gurt verdient hat, stand meine, eher schmucklose, schwarze Yamaha APX5 an. Aber auch die hat eine Seele und das soll der Gurt ausdrücken. Wenn ich die spiele, verbindet mich immer ein virtuelles blaues Band mit ihr. Aber was soll der Titel mit "Custom Custom-Made"? Normalerweise hat der Gurt "Paisley Gitarrengurt blau – Indian Ocean" eine blaue Rückseite, was auf den Bildern auf der Homepage leider eher wie grau wirkt (zumindest auf meinem Notebook). Und ich vermutete, dass die Digitalkamera das gemacht hat, was die gerne tun: aus tiefem schwarz ein frisches grau zu machen. Lina hat mir auf Nachfrage dann ein Foto gemailt, auf dem man das Blau eindeutig erkennen kann, was zufällig genau das Blau des bisherigen Gurtes entspricht. Aber Sie hat wohl zwischen den Zeilen gelesen, dass mir eine schwarze Rückseite lieber wäre und auch gleich gesagt, dass das kein Problem wäre, die Rückseite schwarz zu machen. Nach einer halben Stunde Bedenkzeit ging die Custom-Bestellung raus: Paisley Gitarrengurt blau – Indian Ocean 10mm Löcher für Schaller Locks Schwarzes Leder Gun Metall Hardware Schwarze Rückseite (und das ist das Custom Custom-Made Feature - gibbet so nicht auf der Homepage! Einfach mal Lina fragen, was da machbar ist.) Und was soll ich sagen: der Deckstoff übertrifft, mit seinem changieren zwischen schwarz und blau, optisch bei weitem meine Erwartungen! Die schwarze Rückseite lässt aus dem Gurt und der Gitarre optisch eine Einheit werden, Lenkt die Aufmerksamkeit sofort auf den Gurt und die changierende Farbe passt 100% zu unserer "Seelenverwandtschaft"! Nun habe ich, seit ich den Gurt vorhin montiert habe, ununterbrochen "Give a little bit" von Supertramp gespielt - hat mir so viel Spaß gemacht wie noch nie. Um 22:00Uhr wollte ich dann meine Nachbarn nicht mehr weiter quälen und habe versucht, meine Freude in dieser Rezession fortzusetzen... Danke an die ganze Steyner Crew für Eure wunderbaren Gurte! Ihr solltet langsam darüber nachdenken, kleine Fehler einzubauen wie bei Perserteppichen: Vor Allah darf nichts perfekt sein! P.S.: Als nächster "Kunde" kommt mein VOX Mini5 dran. Der ist Akku-betrieben und hat eine Befestigung für einen Gurt. Und so kann man mit der Gitarre samt Verstärker durch die Gegend laufen oder jeden Samstag seit Pandemie-Beginn auf der Straße um 19:09Uhr mit den Nachbarn "You'll never walk alone" singen...
05/13/2021
Steyner Straps
Hallo Arno :-D Ganz, ganz lieben Dank für Dein Feedback. Wir freuen uns riesig darüber und noch viel mehr, dass Du so zufrieden mit unseren Gurten bist und da sogar das Spielen mehr Spaß macht. So soll es doch sein.
05/07/2021
Kristian B.

Denmark
Top(nice) Steyner quality straps
This lovely handmade vintage strap was bought as a present to my son on his birthday - for his Fender AMPro II Stratocaster. You should have seen my sons eyes when he opened the nice Steyner box; they were sparkling just ad much as the brilliant shining colours of the "Tropical nights strap" - he totally loves it. Nothing better than genuine and unique handmade quality products, thanks to Steyner Straps
05/08/2021
Steyner Straps
Dear Kristian, thank you for your feedback. We are very happy to hear that your son is satisfied with his special gift :-)
05/07/2021
Shizuo W.

Japan
2nd steyner strap
I bought orange juice limited eddition since last one which was mango yellow was so beatiful, luxurious and comfortble. This was also great. I have never seen strap like steyner vintage series in japan market and rare to have steyner strap which i am proud of. it took around 12 days to arrive in japan. Thank you so much Lisa and steyner strap!
05/07/2021
Steyner Straps
Many thanks for your warm words, Shizuo :-) We are very happy to hear that. Best wishes from Germany to Japan. Lina
05/06/2021
Marcel P.

Germany
Top Gurt und sehr netter Umgang mit Kunden
Perfekt, mehr gibt es nicht zu sagen:-) Top Qualität
05/06/2021
Stefan H.

Germany
Echte Handwerkskunst
Wie schon der erste Gurt, den ich verwende, ist auch dieser ausgesprochen wertig. Tolles Material, super verarbeitet, und das Instrument wiegt gefühlt gar nichts mehr. Eine unbedingte Empfehlung für jeden, der etwas Schönes zu schätzen weiß.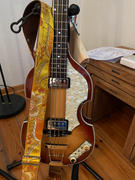 05/06/2021
Steyner Straps
Lieben Dank, Stefan. Wir freuen uns sehr über die Worte und das Bild. Genial!
05/03/2021
Arno H.

Germany
Ein Traum geht in Erfüllung
Nachdem meine Stretch-Gurte von No.1 nicht mehr lieferbar waren, ich dringend Ersatz suchte, bin ich bei Steyner Straps fündig geworden! Als erstes habe ich für meine transparen rote 1984er Ibanez RS530 einen Seatbelt Gitarrengurt Cruiser Deep Black geordert und bin immer noch total begeistert und glücklich damit. Meine Rezension findet Ihr auch dort beim Gurt. Bei der Ibanez war die Wahl recht einfach: Die hat eh eine Seele aus Stahl, da passt der schwarze Gurt mit Gun Metall Hardware hervorragend. Bei meiner 1993er Fender Stratocaster Special Edition 3 Tone Sunburst und der Paul Reed Smith Mira in Chery Red (nein keine SE sondern Urversion) war die Wahl schon schwieriger. Denn die haben komplexere "Seelen" und ein dazu passender musste Gurt gefunden werden. Bei der Mira war es noch relativ einfach: Vintage Gitarrengurt schwarz - Tropical Nights Allerdings gefiel mir das braune Leder nicht und die Messing Metallteile passten nicht zur Chromhardware der Gitarre. Aber dafür gibt es ja Custom Orders (Sonderbestellungen). Ergo: Schwarzes Leder und Gun Metall Metallteile. Bei der Strat war es schon schwieriger. Da gab es mehrere Kandidaten. Auf Platz 1 bei mir: Vintage Gitarrengurt weiss - Tropical Sky. In meiner Verzweiflung habe ich Freitagsnachts eine Mail an Lina geschickt mit meinen Ideen. Schließlich kennt Sie sich mit Steyner Gurten am besten aus. Und jetzt kommt der Hammer! Am nächsten Tag eine total liebe, ausführliche Antwort von Lina mit 6 Fotomontagen mit möglichen Gurtkombinationen! Sie hat extra im Internet nach Bildern von meinen Gitarren gesucht, da mein Bild zu dunkel war. Meine Idee mit dem Gurt für die Mira fand Sie perfekt und hat für mich ein Bild gezaubert, das mir das auch bestätigte. Bei dem weißen Tropical Nights hat Sie und Ihre Fotomontage mich sofort überzeugt, dass das nicht so gut passt: Das weiß beißt sich mit der Farbe des Schlagbretts und die rote Rückseite des Gurtes macht es zu bunt. Ihr Vorschlag mit Bild schlug bei mir ein wie eine Bombe: Paisley Gitarrengurt schwarz – Indian Nights, mit Messing Metallteilen und schwarzem Leder! Den hatte ich auch schon so in der näheren Auswahl, konnte es mir aber nicht vorstellen. Beide Gurte noch am Sonntag als Custom Order raus geschickt (und jetzt kommt der nächste Hammer), montags Versandnachricht, Dienstagmorgen waren sie da! Einfach nur bildschön! Fazit: In Natura übertreffen die Gurte meine Erwartungen bei weitem! Qualität und Verarbeitung sind bei allen 3 Gurten exakt gleich hochwertig! Service exzellent und in meinen Augen nicht zu übertreffen (und das in Corona-Lockdown-Zeiten!). Funktionalität - siehe meine andere Rezension - perfekt. Aussicht: den nächsten Gurt habe ich schon ausgesucht. Ist für meine schwarze Yamaha APX5. Paisley Gitarrengurt blau – Indian Ocean Und wieder als Custom Order. Aber erst mal muss ich dafür noch etwas Geld verdienen. Denn zugegeben: Die Gurte sind nicht billig. Aber dennoch "preiswert" und jeden Cent wert. Schließlich erwirbt man ein kleines Kunstwerk mit perfekter Funktion!
05/02/2021
Ivana L.

Germany
Alles perfekt
Das Geschenk kam super an und die persönliche Gravur sieht genau so aus, wie ich sie mir vorgestellt habe!
04/28/2021
Michael R.

Germany
Bereits mein Zweiter!
Weil mir der erste Gurt so gut gefallen hat, habe ich mir direkt noch einen für meine andere Gitarre geholt. Tolles Teil!
04/27/2021
Ralf H.

Germany
Aussehen
Sieht super aus.. mehr kann ich nicht sagen weil es ein Geschenk ist.
04/27/2021
Daina S.

Germany