Purple guitar strap blue-yellow mottled in metallic look.

A shimmering accessory for your guitar!
This guitar strap recalls the beauty of colorful cosmic fog. The Strap combines a metallic look with highest wearing comfort and perfect grip. Made for eternity

- Metallic / rusty look | for an unforgettable appearance
- 4 mm thick full grain leather | for maximum safety
- Soft cotton belt for high | comfortable to wear and optimal grip
- High-quality metal parts | for a perfect, optical finish
- Handmade in Germany | for excellent quality
- Extra long and adjustable length for | individual height and playing style
- Variably applicable suitable for | Electric, acoustic and bass guitar

Colours: violet, raspberry red, cyan blue, sun yellow
Note: Depending on the incidence of light, the colours may appear lighter or darker.

Specification adjustable 100 - 165 cm (40" - 65") | width: 5 cm (2") | weight: 280 g
This guitar strap is also available in blue-black and green-rust red
Customer Reviews
07/24/2021
Theo W.

Germany
Top
Der Gurt entspricht voll meiner Erwartungen
07/21/2021
Stefan S.

Germany
Besser geht nicht.
Tolle Ware mit exzellenter Verarbeitung. Super freundlicher Service und sehr unkomplizierter Umgang mit Reklamationen. Bezieht sich auf eine ältere Bestellung.
07/09/2021
Robin B.

Germany
Wunderschön!
Stoff und Verarbeitung sind einfach Traumhaft! Leider Passt der Gurt farblich nicht zu allen meinen Gitarren .. da wird wohl in nächster Zeit noch ein weiterer her müssen :D
07/06/2021
Chery D.

Germany
07/02/2021
Dieter D.

Germany
Bester Gurt Ever
Wirklich das Beste an Gurt was ich mir jemals in den letzten 40 Jahren zugelegt habe. Optik 1A, Qualität 1A.
07/02/2021
Steyner Straps
Ganz lieben Dank für das tolle Feedback! Freut uns riesig!
06/28/2021
Roland

Germany
Perfect Match
Anhand der Online-Fotos hatte ich mir gedacht, dass dieser Gurt sehr schön zu meiner neuen Gibson SG Standard '61 passen sollte, und als der Gurt dann kam, dann war ich hin und weg, sie schön die beiden zusammen passen. Die Verarbeitungsqualität, Haptik und Funktion sind ebenfalls sehr gut. Bin wirklich begeistert, und wenn ich wieder mal einen Gurt für eine neue Gitarre brauche, dann werde ich auf jeden Fall auch bei Steyner Straps nach etwas Passendem suchen. Die Bestellabwicklung war auch tip top, sehr schneller Versand, gut verpackt, gute Kommunikation.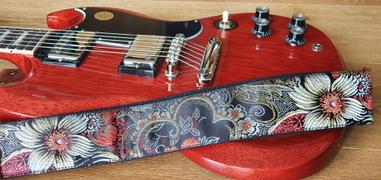 06/23/2021
Gerd

Germany
06/17/2021
Claus B.

Germany
Wunderschöner Gurt - Top Beratung!
Mein neuer Gurt ist ein Traum! Danke Lina für die tolle Beratung zu der dieses Mal ja nicht ganz einfachen Farbe der Gitarre. Hier bei Steyner stimmt Alles, von der freundlichen und engagierten Chefin Lina, bis zum perfekten Produkt, hergestellt in deutscher Handarbeit zu einem top Preis. Ich werde sicher auch meine nächste Gitarre wieder mit Steyner-Gurten ausstatten. Weiterhin viel Erfolg - ich empfehle Euch auf auf jeden Fall weiter!
06/18/2021
Steyner Straps
Ganz lieben Dank, Claus für deine tollen Zeilen. Das freut uns riesig. Viele Grüße, Lina & Team