Guitar Strap Purple - Eastern Blueberry
Regular price
0 €
Sale price
130 €
Unit price
per
Sale
Sold out
Impressive top class guitar strap, purple / violett - Handmade in Germany

High-end accessory for your guitar!
Are you looking for a guitar strap that visually pulls out all the stops, fits gently around your shoulder and gives you long-lasting pleasure? If so, our black vintage guitar strap, "Eastern Blueberry", will definitely inspire you.
This extraordinary guitar strap combines a unique look with masterful quality, maximum safety, best wearing comfort and perfect grip. It is the perfect piece of jewelry for your instrument.
Handmade with perfection, down to the slightest detail, in our manufactory in Germany. Made to last!
Features:
Shiny appearance (shimmer effect)

Non-slip underside made of cotton

Soft, thick edges and valuable feel

4 mm thick genuine leather end (vegetable tanned)

Lovingly handmade in Germany
You can only get this extraordinary vintage guitar strap from us!
Do you prefer another color? This strap is also available in yellow, light blue, dark blue, red, black, pink and white.

Note: Depending on the incidence of light, the base tone may appear lighter, or sometimes darker.
▶ For fastening, we recommend our guitar strap fastener "Big Straplocks" > View Straplocks

Details
Dimensions and structure
Length: 100 - 165 cm (40" - 65")
Width: 5 cm (2")
Weight: 170 g
Thickness: 3.5 mm
Material top: Noble artificial silk fabric

Material bottom: Cotton

Design: Vintage floral pattern
Base colour: purple, violett

Accent colors: Red, Blue, Beige

Colour cotton: purple
Color metal parts: gun metall ( matte black)

Color leather: Black

4 mm thick genuine leather / imitation leather ends
Features
Soft and flexible
Excellent grip
Excellent wearing comfort
Unique look and feel
Secure fastening leather end pieces
incl. fastening cord
compatible with acoustic, western, bass and electric guitar
Soft and flexible

Made in Germany

Top class Wearing Comfort
Your shoulders will love this stylish guitar strap!
The strap has a
remarkable wearing comfort
thanks to the soft materials. The
soft strap edge
gently wraps around the neck and shoulder. Furthermore, the sewn-on cotton strap provides a
good grip
. Thus, the strap does not slip back and forth unintentionally. The fastening made of 4 mm thick genuine leather (optionally synthetic leather) ensures a s
table and reliable hold
of your instrument. Thus, you always have full security and can concentrate 100% on playing with your guitar.
"Wenn Deine Gitarre ein Traum ist, sollte der Gurt kein Albtraum sein."
Passende Gurtlochgröße

Bei uns kannst Du Deine passende Lochgröße direkt auswählen und musst nicht nachträglich am Gurtloch schneiden oder bohren.

Extra starkes Lederende

Unsere robusten Echtlederenden sind zwischen 3.5 - 4.0 mm stark. So ist ein Ausreißen des Gurtloches unmöglich.

Persönliche Gravur

Wir machen Deinen Gurt noch individueller und gravieren ihn mit Deinem Namen oder einem Logo.
Blaue Schönheit!
Der, je nach Lichteinfall, leicht schimmernde Oberstoff verleiht unserem Eastern Reef eine edle Optik. Die Grundfarben varieren zwischen Royal- und Navyblau und treffen auf hellblaue, beige und tannengrünen Ornamente. Abgerundet wird der neue Look durch gunmetall (schwarze) Hardware und schwarze Lederteile.
Perfect Match
Das wunderschöne "Eastern Reef"- Design ist ein
unwiderstehlicher Hingucker, der Dein hochwertiges Instrument perfekt ergänzt!
Besonders zur Geltung kommt er in Kombination mit einer blauen, braunen, schwarzen, weißen, goldenen, cremefarbigen, grünen oder hellblauen Gitarre.
Eastern Reef vs. Ocean
"Eastern Reef" ergänzt unsere Eastern Kollektion um eine weitere blaue Variante und konkurriert so mit unserem "Eastern Ocean". Durch unterschiedliche Akzent-, Metall- und Lederfarben ist ein völlig neuer Look entstanden. Wir sind begeistert. Welches Design gefällt Dir besser?
Eastern Ocean ansehen
Zuwachs in der Eastern Kollektion
Bisher haben wir zwei schwarze Varianten "Eastern Nights" , sowie eine rote "Eastern Heat", eine blaue "Eastern Ocean" und eine lila farbige Ausführung "Eastern Blueberry".

Mit "Eastern Reef" bekommt unser blauer "Eastern Ocean" nun einen würdigen Konkurrenten.
Gesamte Eastern Kollektion anschauen
Customer Reviews
04/26/2022
Marc-André H.

Germany
Mein 4. toller Gurt!!!
… und wieder eine absolute Schönheit! Es ist außerdem immer wieder absolut top, wie freundlich Lina und ihr Team sind und wie schnell sie die Lieferung auf den Weg bringen. Vielen herzlichen Dank! Das war ganz sicher nicht mein letzter Steyner Strap!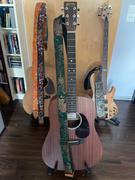 04/28/2022
Steyner Straps
Ganz lieben Dank für Deine Worte :-) Wir freuen uns riesig.
04/25/2022
John D.

United Kingdom
A Beautiful & Quality strap
Great being able to order with the option for larger holes to accommodate strap locks - and just a lovely quality item.
04/25/2022
Andreas S.

Germany
TOP!!!
1. Tolle Farbgebung, tolle Muster. 2. Super Verarbeitung. 3. Topqualität. 4. Sehr guter Tragekomfort. 5. Passt echt gut zu meiner schwarzen Strat!
04/08/2022
Stefan H.

Germany
Wieder tolle Qualität
Mittlerweile habe ich nun schon den dritten Gitarren- bzw. Bassgitarrengurt hier bei Steyner bestellt und auch erhalten. Das ist einfach ganz tolle Qualität und sieht nicht nur schick aus, sondern trägt sich auch hervorragend. Diese Gurte sind einfach jeden Euro wert.
04/08/2022
Steyner Straps
Vielen Dank, lieber Stefan! Wir freuen uns riesig, dass Du so zufrieden bist und Dich unsere Gurte so sehr begeistern. Viele Grüße. Lina
03/31/2022
Jürgen O.

Germany
Prima Gurt
Die Verarbeitung ist wie immer spitze. Der Farbton passt wunderbar zu meiner weißen Gitarre. Hält bestimmt ein Leben lang....
03/30/2022
José B.

Switzerland
03/29/2022
Joachim M.

Germany
Cooler Gurt, dritter Teil
Das ist der dritte Gurt für eine der Gitarren meiner Tochter! Viele Grüße nach Hamm, Anna hat noch 20 weitere Gitarren Mindestens eine davon samt Steyner-Gurt präsentiert sie am 30.4.22 in der Werkstatthalle im Maxipark in Hamm beim rockigen "Tanz in den Mai". Viele Grüße aus Mülheim und Bremen
03/28/2022
Peter K.

Germany
Super !
... sehr schöner Gitarrengurt - mein erster Steyner, aber bestimmt nicht der letzte :-) Vintage Gitarrengurt schwarz - Eastern Nights (schwarz - silber)
03/25/2022
Stefan S.

Germany
03/19/2022
Thomas

Germany
So beautiful
Wirklich eine einzigartige Qualität. Hier bekommt das "Handmade in Germany" nochmal eine ganz andere Bedeutung. Ein super Tragegefühl gepaart mit einzigartigen Farben und Mustern. Ich steh total auf Eure Gitarrengurte Lina, und deshalb findet jetzt hoffentlich bald der 4. Gurt zu mir nach Hause :-) Truly a unique quality. "Handmade in Germany" gets now a completely different meaning. A great wearing comfort paired with unique colors and patterns. I really like your guitar straps Lina, so hopefully the 4th strap will find its way to my house soon :-)