Guitar strap blue - Cosmic Nebula
Regular price
Sale price
130 €
Unit price
per
Sale
Sold out
Blue guitar strap black - yellow mottled in metallic look.

A shimmering accessory for your guitar!
This guitar strap recalls the beauty of colorful cosmic fog. The Strap combines a metallic look with highest wearing comfort and perfect grip. Made for eternity

- Metallic / rusty look | for an unforgettable appearance
- 4 mm thick full grain leather | for maximum safety
- Soft cotton belt for high | comfortable to wear and optimal grip
- High-quality metal parts | for a perfect, optical finish
- Handmade in Germany | for excellent quality
- Extra long and adjustable length for | individual height and playing style
- Variably applicable suitable for | Electric, acoustic and bass guitar

Colours: turquoise blue, mustard yellow, black
Note: Depending on the incidence of light, the colours may appear lighter or darker.

Specification adjustable 100 - 165 cm (40" - 65") | width: 5 cm (2") | weight: 280 g
This guitar strap is also available in violet-black and green-rust red
We recommend our guitar strap lock "Big Straplocks" for fastening > View Straplocks
Customer Reviews
01/29/2023
Hervé B.

France
01/11/2023
Peter N.

Germany
01/05/2023
Michael T.

Germany
What a wonderful Strap !
Das lief bereits wie bei der letzten Bestellung sehr schnell, Montag online bestellt Donnerstag geliefert. Der Gurt ist, wie zu erwarten, absolut perfekt. Den gepolsterten habe diesmal nicht gebraucht, da eine leichte "Fender Acoustasonic US" dran hängen wird. Wie schon beim letzten mal erwähnt, sind das die besten Gurte die ich in den letzten 40 Jahren getestet und besessen habe. Vielen Dank und weiter so, Michael T.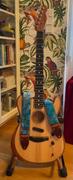 01/07/2023
Steyner Straps
Lieber Michael. Ganz lieben Dank für diese tollen Worte. Klasse, dass Du so zufrieden bist. So soll es sein. Liebe Grüße. Lina & die Steyner Crew
12/29/2022
Damien

France
12/29/2022
Stefan L.

Germany
Ein optisch sehr passender & qualitativ hochwertiger Gurt für die Gibson ES 355
Wow. Wieder ein top Gurt. Dieses Mal für meine Gibson ES 355 Figured Iced Tea. Optisch passt er sehr gut finde ich. Qualitativ wie immer hochwertig. Die Strap Locks funktionieren sehr gut und sind praktisch. Nichts stört optisch oder beim Tragen. Ok, nicht ganz günstig im Preis, aber die Gitarre kann ihn ragen . Ach ja, danke für die gute Beratung beim Kauf und die schnelle und unkomplizierte Abwicklung.
12/20/2022
Stefan R.

Germany
12/18/2022
Caroline v.

Germany
Was ein Hingucker!
Wow ich bin mega begeistert. Ein absoluter Eyecatcher und wirklich das perfekte Geschenk. :) Ich bin mega gespannt was das Geburtstagskind dazu sagt. :) Tausend Dank für die wundervolle Arbeit!
01/03/2023
Steyner Straps
Klasse, dass der Gurt so einen guten Eindruck macht. Wir wünschen ganz viel Freude beim Verschenken. Liebe Grüße, Lina
12/18/2022
Wolfgang M.

Germany
Ein echtes Schmuckstück
Es ist mein vierter Steyner... und auch dieses Mal wurde ich nicht enttäuscht. Erstklassige Materialien und Verarbeitung machen diesen Gurt zu einem echten Kunstwerk und Hingucker. Meine Ditson Mahogany fühlt sich sichtlich wohl damit. Ein großes Dankeschön auch für die perfekte Typberatung vor dem Kauf.
12/18/2022
Roland A.

Germany
Erstklassiger, wunderschöner Gurt!
Das ist jetzt schon mein fünfter Steyner-Gurt und wieder zeigt sich: Ein qualitativ hochwertig gefertigter Gitarrengurt, der zudem super komfortabel ist und mit wunderschönen, strahlenden Farben punktet! Zudem ein toller Service von Steyner und eine Turbolieferung!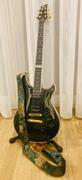 12/13/2022
Edgie S.

Singapore
5 stars is not enough for Steyner #5
Just received my 5th one and my favorite. I think this strap matches most colors, whether gloss or matte. Really loving its understated elegance with the vivid blue that pops out nicely from the black printed background. Thanks again to Lina and her crew for making such a beautiful line of straps.