Blue Guitar Strap - Cruiser Azur
Regular price
Sale price
100 €
Unit price
per
Sale
Sold out
High class non-slip guitar strap made of car belt / seat belt webbing, light blue - cyan

Double-layer guitar strap made of seatbelt webbing and cotton with high slip resistance, noble look and soft feel. (two-ply stitching)
This stylish guitar strap consists of a light blue safety webbing with the classic 4 stripe look and old-silver colored metal parts. The special feature is that we have combined this sturdy nylon strap with a thick cotton webbing on the back. This provides a high slip resistance, a fantastic wearing comfort and durability. The strap features a solid, yet soft feel. It is very stable, yet remains flexible and is not too heavy. So strap it on and let's go!
Handmade with perfection down to the smallest detail in our small factory in Germany. Made to last!
Features:
Shiny surface (shimmer effect)

Non-slip cotton backing

Soft, thick edges and valuable feel

4 mm thick genuine leather end (vegetable tanned)

Lovingly handmade in Germany
This extraordinary strap you only get from us!
✓ incl. fastening cord


To attach the strap we recommend our Guitar Strap Lock "Big Straplocks" > View Straplocks



Details
Dimensions and structure
- Length 100 - 165 cm
- Width 5 cm
- Weight 280 g
- thickness approx. 4 mm
- Car Seat Belt Color: Light Blue, Cyan
- Colour cotton: Dark brown
- Color metal parts: Old silver
- Color leather: Dark brown
- 4 mm thick genuine leather / imitation leather ends
- Two-ply sewn from nylon and cotton

Features
- Soft and flexible
- Excellent grip
- High wearing comfort
- Unique look and feel
- Secure fastening end pieces
- Compatible with acoustic, western, bass and electric guitars
- Made in Germany
Leather Info

Real leather: Our leather ends are pure vegetable tanned cowhide.

Faux leather: Our vegan leather ends consist of a textile base and are coated with a plastic blanket. This imitation leather comes very close to the real leather ends.
First-class wearing comfort
Your shoulders will love this light blue safety webbing guitar strap!
The strap has a remarkable wearing comfort due to the soft materials. The soft belt edge gently wraps around your neck and shoulders. Furthermore, the sewn-on cotton tape provides a good grip. Thus, the strap does not slip unintentionally. The fastening made of 4 mm thick genuine leather (optionally imitation leather) ensures a stable and reliable hold of your instrument. This allows you to play with the hightes security and can concentrate 100% on playing the guitar.
Customer Reviews
12/26/2021
Markus H.

Germany
Wann kaufst DU dir endlich deinen Steyner Gitarrengurt?
Made in Germany. Spitzenklasse Qualität. Zuvorkommende, kompetente Beratung und die Möglichkeit, den perfekten Gurt noch zu individualisieren. Und nein, ich arbeite nicht bei Lina im Marketing. Mich stört aber, dass nicht jede Gitarre, die der Wand hängt, ein Steyner-Gurt schmückt! Also wird's diesmal der Nylongurt "Heavy Henry". Als Sonderanfertigung natürlich. Einfach weil's geht! Leder in Dunkelbraun mit Metallteilen in Gunmetal. Logo noch gravieren lassen... Wahnsinn, wie schnell meine Bestellung wieder in den Versand ging. Klasse, wie das Nylon schimmert und gut zum Abalone-Binding passt. Die Qualität ist wirklich heavy und robust bei minimalem Gewicht. Klare Empfehlung, wie immer. Und wenn ihr Euch von der Auswahl verunsichert fühlt, zögert nicht die Steyner-Crew zu fragen was am Besten passen würde! Also, wann bist Du bereit für deinen Steyner Gurt?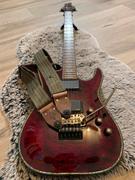 12/26/2021
Markus H.

Germany
Perfekt unperfekt! Oder: Wer A sieht, muss zu B nicht nein sagen!
Nachdem ich mir bereits einen (sonderangefertigten) Gurt bestellt hatte und sehr begeistert bin, habe ich mir das Youtube-Video mit der Auswahl an Sonderangeboten angesehen und wurde beim Durchstöbern des B-Sortiments auf der Homepage fündig: Dem äußerst hohem Qualitätsanspruch des Steyner-Teams rund um Lina ist es zu verdanken, dass ich mit dem Gitarrengurt "Cruiser red" ein Schnäppchen gemacht habe! Einzig die Gravuroption noch in den Warenkorb, Logo per E-Mail mitgeteilt und kurze Zeit später ging der Gurt auch schon in den Versand. Einmalig, denn von dem Makel sehe ich nichts. Vielen Dank! Auch dass ich am Haken hänge und mit Sicherheit noch einen Gurt brauche!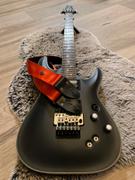 12/18/2021
Thomas B.

Germany
Toller Gurt - nette Menschen!
Für mich war im Vorfeld wichtig, dass der Gurt nicht rutscht wegen kopflastiger Gitarre. Das funktioniert prächtig. Sieht auch gut aus und ist aus Sicherheitsgurten gemacht. Sehr individuell und nachhaltig. Und außerdem ein sehr netter Kontakt mit einem sympathischen und Familiären Unternehmen. Bitte weiter so! Den nächsten Gurt bestell ich auch wieder bei Euch!
12/10/2021
Paul-Gerhard W.

Germany
Sehr gutes Produkt
Sehr gute Verarbeitung und ein klasse Design. Der Beschenkte wird begeistert sein !!!
12/09/2021
Günter M.

Germany
Prima Gurt, leicht, kompakt, gut einstellbar, sieht schlicht und edel aus
Mit seiner edlen Schlichtheit lässt dieser Gurt der Gitarre ihren eigenen "Auftritt", wirkt dennoch edel, robust und ist zudem noch sehr variabel einstellbar. Optik, Haptik und der Gebrauchswert sind bestens. Eine echte Kaufempfehlung!
12/09/2021
Wolfgang K.

Germany
Alles top - wie immer ,.,,
… perfekt verarbeitet, super Qualität, angenehm zu tragen und passt prima zur Gitarre. :)
10/24/2021
David C.

Switzerland
09/28/2021
Ernst R.

Germany
09/12/2021
Ralf H.

Germany
Tolle Qualität, tolles Design!!!
Die Verarbeitungsqualität ist perfekt, Eine Vielzahl an Designs von "blumig" bis "clean", von Stoff bis Leder, sollte für alle Geschmäcker etwas bieten. Alles in Allem ein Gurt, der sich aus der Masse abhebt und auch vom Preis passt. Und dann noch: Support your Local Business. Was will man mehr!!!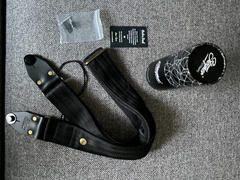 09/12/2021
Steyner Straps
Hallo Ralf, wow! Ganz herzlichen Dank für das schöne Feedback. Das freut uns riesig! Toll, dass Du auch das Bild mit uns teilst. Viel Freude weiterhin damit. Liebe Grüße Lina
08/17/2021
Jürgen O.

Germany