Non-slip retro guitar strap with paisley pattern, blue / red - Handmade in Germany
Stylish "Boho-Style" accessory for your guitar!
This non-slip ethnic guitar strap feels like your favorite pair of jeans. It combines the classic paisley design with masterful quality, maximum safety, best wearing comfort and perfect grip. It is the perfect piece of jewelry for your instrument.
Handmade with perfection, down to the slightest detail, in our manufactory in Germany. Made to last!
Features:
Fine jacquard woven ribbon

Non-slip underside made of cotton

Soft, thick edges and valuable feel

l4 mm thick genuine leather end (vegetable tanned)

Lovingly handmade in Germany

You can only get this retro guitar strap from us!
Do you prefer another color? This strap is also available in brown-red, brown-yellow, purple-turquoise and blue-red.

▶ For fastening, we recommend our guitar strap fastener "Small Straplocks" > View Straplocks


Details
Dimensions and structure
Length: 100 - 165 cm (40" - 65")
Width: 5 cm (2")
Weight: 170 g
Thickness: 2.2 mm
Material top: woven jacquard ribbon

Material bottom: Cotton

Design: paisley pattern
Base colour: blue, red

Colour cotton: pblue
Color metal parts: antique brass

Color leather: brown

4 mm thick genuine leather / imitation leather ends
Features
Extraordinary soft and flexible
Excellent grip
Excellent wearing comfort
Unique look and feel
Secure fastening leather end pieces
incl. fastening cord
compatible with acoustic, western, bass and electric guitar
Soft and flexible

Made in Germany

Top class Wearing Comfort
Your shoulders will love this guitar strap!
The strap has a
remarkable wearing comfort
thanks to the soft materials. The
soft strap edge
gently wraps around the neck and shoulder. Furthermore, the sewn-on cotton strap provides a
good grip
. Thus, the strap does not slip back and forth unintentionally. The fastening made of 4 mm thick genuine leather (optionally synthetic leather) ensures a
stable and reliable hold
of your instrument. Thus, you always have full security and can concentrate 100% on playing with your guitar.
Customer Reviews
04/05/2021
Anja C.

Germany
hochwertiger, sehr schöner Gitarrengurt
Artikel war ein Geschenk und ist sehr gut angekommen. Tolle, leuchtende Farben, sehr gute Verarbeitung. Wahlmöglichkeit zwischen Naturleder und veganem "Leder" ist toll. Super schnelle Lieferung
04/03/2021
Helmut K.

Germany
Sehr guter Service!!!
Immer wieder toller Gurt
04/03/2021
Steyner Straps
03/29/2021
Rafael G.

Germany
Unbeschreiblich gute Qualität
Ich habe selten so ein hochwertiges Produkt gesehen. Die ganze Verpackung etc. sind eine wirklich Experience. Immer weiter so!
03/22/2021
Markus O.

Liechtenstein
Gitarrengurt
Ein richtig toller Gurt tolle Qualität Optisch wie auch funktionell
03/23/2021
Steyner Straps
Vielen Dank, Markus. Das freut uns sehr :-)
03/14/2021
Alex S.

Germany
Absolut top!
Superschön, tolle Materialien, super verarbeitet, super bequem. Dank der 10mm Löcher auch endlich völlig unproblematische Montage von Schaller S-Locks. Ganz nebenbei auch noch Freitag bestellt und Samstag bei mir. Würde gerne 6 Sterne vergeben, geht aber leider nicht :-) Hab den nächsten schon auf der Wunschliste. Die Farbe passt auch wunderbar zur Strat in Lake Placid Blue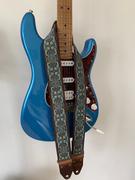 03/14/2021
Steyner Straps
Hallo Alex, ganz lieben Dank für die tolle Bewertung. Das freut uns riesig. Liebe Grüße, Lina
03/13/2021
Jens B.

Germany
Sehr schönes eigenes Design
Sehr gute Verarbeitung und vor allem sehr bequem. Sicher nicht mein letzter Gurt :-)
03/13/2021
Steyner Straps
Danke, Jens. Das freut uns zu hören.
03/11/2021
Christoph N.

Germany
Toller Gurt
Tolles Design, sehr hochwertige Verarbeitung und sehr schicke Farben. Der leuchtet förmlich.
03/10/2021
Ursula R.

Germany
Gitarrengurt
Ein super tolles und schönes Produkt Habe schon einige Gurte bei Ihnen bestellt und stets zufrieden gewesen
03/10/2021
Steyner Straps
Vielen Dank, Ursula! Das freut uns sehr zu lesen :-)
02/19/2021
Tobias S.

Germany
Geiles Teil
Hammergurt!!! Gerne wieder!
02/26/2021
Steyner Straps
Das freut uns sehr :-) Viele Freude weiterhin damit.
02/14/2021
, ,.

Germany
Gitarrengurt
Toller, sehr schöner Gurt. Werde mir noch einen weiteren zulegen