Paisley guitar strap blue - Indian River
Regular price
130 €
Sale price
104 €
Unit price
per
Sale
Sold out
Luxurious paisley guitar strap, light blue with floral pattern - Made in Germany
The perfect accessory for your guitar!
You play guitar or bass? Do you attach great importance to quality and comfort? Are you enthusiastic about bright colours and eye-catching patterns? Then you'll be our light blue paisley guitar strap "Indian River" will surely enchant you. This noble guitar strap is the perfect piece of jewellery for your instrument. The lovingly handmade strap combines luxurious design with the highest wearing comfort and perfect grip. A must-have for all guitarists who want to stand out!

Made for you in our small factory in Germany.
Made to last!
Features:
Glossy appearance (shimmer effect)

Non-slip underside made of cotton

Soft, thick edges and valuable feel

4 mm thick genuine leather end (vegetable tanned)

Lovingly handmade in Germany
Unique paisley guitar strap in light blue.
The high-quality artificial silk fabric shows a delicate shimmering paisley pattern. Accents in sunny yellow, gold and petrol form further ornaments. The back consists of a cotton tape. Robust real leather or imitation leather ends and metal parts in vintage brass optics complete the Paisley guitar strap. The soft shimmer of the silk fabric looks extremely luxurious. This makes this light blue guitar strap to the absolute eye-catcher.
Your shoulders will love this light blue paisley guitar strap!
The strap has an excellent wearing comfort due to the soft and very light materials. The soft belt edge does not cut at the neck. Furthermore, the sewn-on cotton tape provides a good grip. This prevents the strap from slipping back and forth unintentionally. The fastening made of 4 mm thick genuine leather (optionally imitation leather) ensures a stable and reliable hold of your instrument. Thus you always have full security and can concentrate 100% on playing the guitar.

Please note: Depending on the incidence of light, the light blue base tone sometimes appears lighter, sometimes darker.

You can only get this light blue paisley guitar strap from us!
✓ incl. fastening cord
Specification adjustable 100 - 165 cm (40" - 65") | width: 5 cm (2") | weight: 170 g | compatible with acoustic guitar, western guitar, bass guitar and electric guitar | handmade in Germany
This Paisley guitar strap is also available in creme, black, dark blue, pink/fuchsia, bordeaux, and green.



We recommend our guitar strap lock "Big Straplocks" for fastening > View Straplocks
Customer Reviews
03/14/2023
stella b.

Germany
03/14/2023
Nicolas U.

Germany
Alles you need!
Besonderer Gurt, sowohl optisch als auch qualitativ. Hoher Tragekomfort, auch bei einer längeren Session!
03/13/2023
Steffen S.

Germany
03/12/2023
Thomas H.

Germany
Best Strap Ever!
Vielen Dank für diesen super Gitarrengurt. Sitzt perfekt und sicher, sieht mega aus. Tolles Handwerk, tolles Design
03/12/2023
Steyner Straps
Danke für die tollen Worte :-)
03/09/2023
Klaus F.

Germany
Ganz wunderschöne tolle Gurte / Klaus
Bis jetzt habe ich zwei wunderschöne Gurte für meine beiden schönsten Western-Gitarren. Zum einen für meine Tanglewood, zum anderen für meine selbstgebaute Nordlicht. Die beiden Gurte sehen nicht nur super aus, sie sind sehr gut verarbeitet und liegen wunderbar auf der Schulter, wenn ich die Gitarren im stehen spiele. Großes Lob an Lina und ihr Team. Spitzen Handarbeit!!!! Dafür gebe ich gerne ein bisschen mehr Geld aus und habe dafür sehr gute und sicher langlebige Qualität. Mein nächster Gurt ist wieder von Steyner.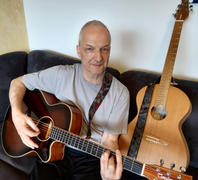 03/12/2023
Steyner Straps
Hallo Klaus. Ganz lieben Dank für die tolle Bewertung und auch das schöne Bild. Wir freuen uns riesig, dass dir die Gurte so gut gefallen Ganz viel Freude weiterhin damit. Liebe Grüße. Lina & die Steyner Crew
03/09/2023
Stefan H.

Germany
Der vierte Steyner-Gurt im Einsatz
Wie die Überschrift schon sagt… Es wäre nicht der bereits vierte Gurt von Steyner, den ich verwende, wenn die Gurte nicht das Beste wären, das ich jemals finden konnte. Nicht nur sind die Gurte wie auch dieser stundenlang fantastisch bequem zu tragen und gleichen hier und da auch mal einen "Neckdive" aus, sondern sie sind auch noch das Schönste und Wertigste, das man sich nur wünschen kann. Es liegt sogar schon der fünfte Gurt in meinem Musikzimmer, der nur deshalb noch nicht montiert ist, weil der Bass, für den er vorgesehen ist, noch unterwegs ist…
03/08/2023
Klaus F.

Germany
Wunderschöner Gurt, passend zu meiner selbst gebauten Gitarre
Trägt sich wunderschön. Sehr gute Verarbeitung. Schaut richtig toll und edel aus. Hab ihn für meine selbstgebaute Westerngitarre gekauft.

03/09/2023
Steyner Straps
Hallo Klaus, wow - eine wunderschöne Gitarre :-) Toll, dass ein Steyner Gurt sie zieren darf. Sieht ganz toll aus. Liebe Grüße. Lina
03/02/2023
Bruno A.

Switzerland
Da haben sich zwei (drei?) gefunden
Also die Gurte sehen ja auf den Fotos schon hammer aus, als ich jedoch den Gurt nach der Lieferung aus dem schmucken Stoffsäckchen befreite, hat es mich fast umgehauen. So wunderschönes Material in wirklich leuchtenden Farben. Die Leder-Enden sind in Top Qualität und auch optisch sehr schön! ........und dann die Polsterung........ man möchte das Instrument gar nicht mehr ablegen, so bequem fühlt sich das an! Wirklich ein qualitativ hochstehendes Produkt und erst noch Handarbeit, da lohnt sich jeder Cent (auch die 30 Euro Zollgebühren in die Schweiz :-( ) Mein Preci sieht nun noch edler aus! Vielen Dank dem ganzen Steyner Team und dieser Gurt wird bestimmt nicht der Letzte gewesen sein! Herzlich, Bruno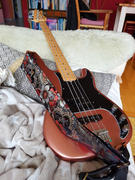 03/02/2023
Helmut S.

Switzerland
02/20/2023
Norbert D.

Germany