Nylon Guitar Strap Heavy Harriet
Regular price
Sale price
110 €
Unit price
per
Sale
Sold out
Top class stylish nylon guitar strap, black

Double layered nylon and cotton guitar strap with high slip resistance, exclusive look, and soft feel. (double layer sewn)
"Heavy Harriet" belongs to the deluxe version of our nylon guitar straps. The special feature is that we have combined this sturdy nylon strap with a thick cotton webbing on the back. This provides a high-level slip resistance, fantastic comfort, and durability. The strap features a solid, yet buttery soft feel. It is very stable, but still remains flexible and is not too heavy. In design, it convinces with a black, shimmering surface with a concise herringbone pattern structure. This unique style is completed by robust brown leather ends and rose gold colored metal parts.
Handmade with perfection, down to the slightest detail, in our manufactory in Germany. Made to last!


Features:
Shiny appearance (shimmer effect)

Non-slip underside made of cotton

Soft, thick edges and valuable feel

4 mm thick genuine leather end (vegetable tanned)
Lovingly handmade in Germany

Please note that due to the thickness of both materials, there may be some slight rippling with this strap, but it will "hang out" after a while.
This high end nylon guitar strap you only get from us!
✓ incl. fastening cord
▶ For fastening, we recommend our guitar strap fastener "Big Straplocks" > View Straplocks

Details
Dimensions and structure
Length: 100 - 165 cm (40" - 65")
Width: 5 cm (2")
Weight: 170 g
Thickness: 3.5 mm
Nylon color on top: black

Color of cotton at bottom: black

Color metal parts: rose gold

Color leather: black

4 mm thick genuine leather / imitation leather ends
Features
Soft and flexible
Excellent grip
Excellent wearing comfort
Unique look and feel
Secure fastening leather end pieces
incl. fastening cord
compatible with acoustic, western, bass and electric guitar
Made in Germany

Top class Wearing Comfort
Your shoulders will love this anti-slip nylon guitar strap!
The strap has a
remarkable wearing comfort
thanks to the soft materials. The
soft strap edge
gently wraps around the neck and shoulder. Furthermore, the sewn-on cotton strap provides a
good grip
. Thus, the strap does not slip back and forth unintentionally. The fastening made of 4 mm thick genuine leather (optionally synthetic leather) ensures a
stable and reliable hold
of your instrument. Thus, you always have full security and can concentrate 100% on playing with your guitar.
Customer Reviews
Mein Erster!!
Da ist ER, mein erster Steyner Gurt Heavy Harriet in Schwarz. Optik, Tragekomfort, Qualität der Verarbeitung- Alles vom Feinsten. Die Big Straplocks waren super einfach anzubringen und sind einfach genial. Der Preis ist absolut gerechtfertigt. Vielen Dank für den netten Kontakt. Liebe Grüße aus dem Saarland. Wolfgang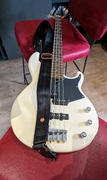 12/21/2022
Eckhard B.

Germany
Besser geht's nicht
Wunderschöner Gitarrengurt; Hervorragende Qualität und hochwertiges Material. Alles Made im Ruhrpott. Besser geht es nicht.
11/20/2022
Niklas S.

Germany
Perfekt
Der Gurt ist schwerer als andere Gurte die ich besitze, wenn die Gitarre dann aber umhängt, ist die Gitarre gefühlt deutlich leichter. Spricht für den Gurt. Ansonsten ist der Gurt absolut perfekt verarbeitet und wird lange Jahre Freude Bringen. Mein Dritter bislang
11/20/2022
Steyner Straps
Tolle Feedback, danke dir!
10/08/2022
Niklas S.

Germany
Unglaublich
Ich bin sehr glücklich mit dem Gurt! Der erste hat damals meine Les Paul verschönert und der jetzige meine ES335 die ich wöchentlich viel Umhängen habe. Die Gurte sind absolut hochwertig verarbeitet und ich werde noch mehr davon bestellen (müssen) weil sie einfach was Tragekomfort und Gewichtsverteilung der Gitarre und in Punkto Optik und Verarbeitung besser sind, als alles was ich bisher hatte. Für Leute die viel Spielen wärmstens empfohlen! - Niklas Senger -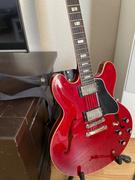 09/01/2022
Jens V.

Germany
Heavy Harvey Nr. 2
Heute ist der nächste "Heavy Harvey" Gurt angekommen, diesmal mit schwarzem Leder und schwarzen Metallteilen. Sieht wieder absolut top aus und passt farblich auch wieder erstklassig zur Gitarre, für die er gedacht war. Wieder vielen Dank an Lina und das Steyner-Team :)
09/01/2022
Steyner Straps
Wow, das wunderbar aus. Eine perfekte Kombination:-)
08/24/2022
Jens V.

Germany
Absolut erstklassig...
Sehr netter Kontakt, erstklassiger Service und unfassbar schnelle Lieferung...und das, obwohl ich sogar eine Sonderoption (Metallteile Alt-Messing) mit bestellt habe. Ganz nebenbei ist das definitiv der beste Gitarrengurt, den man sich nur vorstellen kann! Edel und bequem, passt farblich absolut top zur Gitarre. Besser geht es nicht! Die nächste Bestellung folgt umgehend :) Vielen Dank an Lina und das ganze Steyner-Team!
07/18/2022
Elias N.

Germany
Mehr als zufrieden
Super gute Qualität! Ich habe nicht erwartet das mein Spielgefühl so positiv beeinfluss wird. Ich kaufe das Produkt auch für meine andere Gitarren.
07/20/2022
Steyner Straps
Hallo Elias, toll dass Dein Spielgefühl verbessert wurde. Das freut uns sehr. Viel Spaß weiterhin beim Spielen und mit dem Gurt :-). Liebe Grüße Lina
06/30/2022
Marco F.

Germany
You Wanted the Best, You Got the Best!!
Der Seatbelt Gitarrengurt Cruiser Deep Black... mein zweiter Gitarren Gurt von Steyner. Um es auf den Punkt zu bringen.....! Der perfekte Gitarrengurt, mit unfassbarem Tragekomfort! Wer diesen Gurt nicht ausprobiert hat, hat echt was verpasst. Es wird nicht mein letzter Gurt gewesen sein! Macht bitte weiter so!!! Lg Marco von Fräulein Tonspur Fotos by Da Noize Pics n Arts
06/05/2022
Gerd G.

Germany
05/29/2022
Miriam F.

Germany
Wunderbare Ukulelengurte, absolut empfehlenswert
Der Nylongurt war mein 1. Gurt von Steyner und ich bin höchstzufrieden! Sehr stabil und perfekt genäht (er ziert meine Banjolele, ist aber so "stark", dass er selbst meine 4kg Fender hält ;)). Toller Service und Blitzversand- mittlerweile habe ich bereits 4 Ukulelengurte von Steyner und nun sind die Gitarren an der Reihe.. ^^ Vielen lieben Dank an das Steyner Team! :)