Padded leather guitar strap in exclusive vintage look (red-brown)

Beautiful padded leather guitar strap in vintage style with pull-up effect and double decorative stitching. Due to the padding, this red-brown guitar strap fits perfectly to the shoulder and provides optimal weight distribution. A must-have for all leather fans!
Features:
Vintage look (pull-up effect)

Non-slip suede leather underside

4 mm foam padding (memory effect)

Soft, thick edges and an elegant feel

Handmade from high quality cowhide leather



You can only get this exclusive design from us!
✓ incl. fastening cord

Please note: Since leather is a natural product, each of our belts is unique in the optical structure. The strap can be coarse- or fine-grained and have a different strong pull-up effect. (see last picture). If a certain structure is important to you, please contact us before buying. Then we will check if we have it in stock.


A matching gift box is available here. > To the gift box
▶ For fastening, we recommend our guitar strap fastener "Small Straplocks" > View Straplocks


Details
Dimensions and structure
Lengh: 129 – 146 cm / 110-128 cm
Width: 6,5 cm / 6 cm
Weight: ca. 200 g
Color leather on top: red brown
Color suede at bottom: dark brown

4 mm foam padding (memory effect)

Stable saddlery thread
Features
Very soft and flexible
Excellent grip
Very comfortable to wear
Very valuable feel and look
Sewn strap hole and double decorative seam
incl. fastening cord
compatible with acoustic, western, bass and electric guitar
Lovingly handcrafted from Portugal
Top class Wearing Comfort
Your shoulders will love this padded leather guitar strap!
The strap has a
remarkable wearing comfort
thanks to the soft materials. The
soft strap edge
gently wraps around the neck and shoulder. Furthermore, the sewn-on cotton strap provides a
good grip
. Thus, the strap does not slip back and forth unintentionally. The fastening made of 4 mm thick genuine leather (optionally synthetic leather) ensures a s
table and reliable hold
of your instrument. Thus, you always have full security and can concentrate 100% on playing with your guitar.
Customer Reviews
07/13/2021
Heiner G.

Germany
Bin sehr zufrieden
Ich habe einen gut gepolsterten, breiten Gitarrengurt gesucht. Die maximale Breite von 6,5 cm bei den Ledergurten erschien mir etwas zu schmal für meine doch recht schwere Yamaha SA2200. Seitens der Firma Steyner wurde mir empfohlen, doch auch den Bassgurt aus Leder mitzubestellen und dann das nicht gewünschte Teil kostenfrei zurückzuschicken. Doch es kam anders: ich behalte beide Gurte, den 6,5er für eine leichte Jazz-Gitarre, den Bassgurt für Yamaha. Beide Gurte: einfach traumhaft. Ich bin absolut begeistert, daß sei hier nochmal gesagt.
07/13/2021
Steyner Straps
Vielen lieben Dank für das tolle Feedback, Heiner! Freut uns sehr:-)
05/19/2021
Christian K.

Germany
Wie immer top!
Farbe passt perfekt zu meiner '97er Gibson Howard Roberts Fusion III. Materialanmutung über jeden Zweifel erhaben.
05/19/2021
Steyner Straps
Vielen Dank, Christian :-) Das ist schön zu lesen!
05/11/2021
Christoph N.

Austria
Schön und Wertig
Der Gurt sieht wirkkich gut aus und das Leder wirkt auch gut verarbeitet und sehr Wertig. Abgesehen davon war der Kundenservice bei einem Problem wirklich super. Alle Sterne und gerne wieder.
05/11/2021
Steyner Straps
Danke für die Bewertung :-)
04/29/2021
Ursula R.

Germany
Bassgurt
Ein sehr schönes Produkt Wie immer sehr zufrieden
04/19/2021
Klaus-Peter S.

Germany
Super Gurt
Toller Gurt. Echt bequem und sehr angenehm zu tragen
04/19/2021
Steyner Straps
Vielen Dank für Dein Feedback, Klaus-Peter :-)
04/18/2021
Rustem L.

Germany
Danke!
Immer wieder gerne!
04/14/2021
Daniel L.

Germany
Mein neuer Gurt
Sehr nette Kommunikation, schnelle Lieferung und ein tolles Produkt. Naturmaterialien sind einfach am schönsten! Freue mich auf eine lange Zeit mit dem Gurt!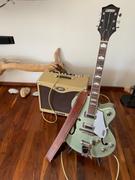 04/14/2021
Steyner Straps
Vielen Dank für Dein Feedback, Daniel. Wir freuen uns sehr darüber. Viel Spaß weiterhin beim Spielen.
04/07/2021
Claudia Z.

Germany
Gitarrengurt als Geschenk
Der Gitarrengurt war ein Geschenk zum Geburtstag und kam wahnsinnig gut an. Während der Bestellung wurde mir, mit meinen Fragen sofort weitergeholfen. Tolles Produkt, schnelle Lieferung. Ich bestell gerne nochmal.
04/07/2021
Steyner Straps
03/18/2021
Carsten N.

Germany
Luxus Gitarrengurt
Sehr hochwertiger Gitarrengurt, der angenehm schmal, aber dennoch leicht gepolstert daherkommt. Sehr leicht,passt sich gut dem Körper an, und riecht zudem unheimlich gut nach Leder. Passt gut zu meiner Gibson R 58 in tobacco brown. Absolute Empfehlung!
03/19/2021
Steyner Straps
Vielen Dank für Deine Worte, Carsten. Das freut uns. :-)
03/14/2021
Stefanie B.

Germany
Nubuk Deluxe black
Als ich die Gitarrengurte erstmals über Gesichtsbuch entdeckt habe, war ich zunächst von dem schönen Design angetan. Das ist auch immernoch so. Ich wollte aber zunächst etwas Wildlederähnliches, da kam der Nubuk Deluxe in Frage. Die Lieferung erfolgte sehr schnell, da war ich echt überrascht! Nicht allein durch den hohen Preis habe ich für mich das Gefühl ein wirklich tollen Gitarrengurt zu haben. Ich würde auch weitere bestellen!
03/14/2021
Steyner Straps
Vielen Dank für Dein Feedback :-)