Padded Leather Guitar Strap - Grainy Chestnut Deluxe
Regular price
Sale price
100 €
Unit price
per
Sale
Sold out
Padded leather guitar strap in exclusive vintage look (red-brown)

Beautiful padded leather guitar strap in vintage style with pull-up effect and double decorative stitching. Due to the padding, this red-brown guitar strap fits perfectly to the shoulder and provides optimal weight distribution. A must-have for all leather fans!
Features:
Vintage look (pull-up effect)

Non-slip suede leather underside

4 mm foam padding (memory effect)

Soft, thick edges and an elegant feel

Handmade from high quality cowhide leather



You can only get this exclusive design from us!
✓ incl. fastening cord

Please note: Since leather is a natural product, each of our belts is unique in the optical structure. The strap can be coarse- or fine-grained and have a different strong pull-up effect. (see last picture). If a certain structure is important to you, please contact us before buying. Then we will check if we have it in stock.


A matching gift box is available here. > To the gift box
▶ For fastening, we recommend our guitar strap fastener "Small Straplocks" > View Straplocks


Details
Dimensions and structure
Lengh: 129 – 146 cm / 110-128 cm
Width: 6,5 cm / 6 cm
Weight: ca. 200 g
Color leather on top: red brown
Color suede at bottom: dark brown

4 mm foam padding (memory effect)

Stable saddlery thread
Features
Very soft and flexible
Excellent grip
Very comfortable to wear
Very valuable feel and look
Sewn strap hole and double decorative seam
incl. fastening cord
compatible with acoustic, western, bass and electric guitar
Lovingly handcrafted from Portugal
Top class Wearing Comfort
Your shoulders will love this padded leather guitar strap!
The strap has a
remarkable wearing comfort
thanks to the soft materials. The
soft strap edge
gently wraps around the neck and shoulder. Furthermore, the sewn-on cotton strap provides a
good grip
. Thus, the strap does not slip back and forth unintentionally. The fastening made of 4 mm thick genuine leather (optionally synthetic leather) ensures a s
table and reliable hold
of your instrument. Thus, you always have full security and can concentrate 100% on playing with your guitar.
Customer Reviews
03/09/2023
Matthias M.

Germany
02/10/2023
Iñigo C.

Spain
Great quality
Great experience. High quality craftmanship Not easy to find quality like this these days
01/17/2023
Alois J.

Germany
Best guitar strap ever
Ausgezeichnete Verarbeitung, sehr angenehm auf der Schulter und ein sehr cooles Design. Man bekommt was für sein Geld ….
01/13/2023
Stefan K.

Germany
Mein absoluter Lieblingsgurt
Ich habe seit über 30 Jahren einen Nubuk Ledergurt für meine Stratocaster. Mein absoluter Lieblingsgurt. So einen wollte ich auch für meine anderen Gitarren haben. Jahrelang habe ich danach gesucht und nichts vergleichbares gefunden, bis ich auf Steyner gestoßen bin. Der ist sogar noch besser!! Leider habe ich bei der letzten Bestellung vergessen dass ich die lange Version bevorzuge, ist aber nicht so schlimm. Wenn ich die volle Länge nutze passt es so grade. Er ist bequem und sieht einfach gut aus. Er passt zu jeder Gitarre, insbesondere wenn die Gitarre eine weiße Lackierung hat.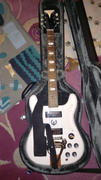 12/31/2022
Frank U.

Germany
Sehr gute Qualität
Von der Bestellung über die freundliche Art bis zur Lieferung war alles perfekt. Das Produkt entspricht absolut meinen Vorstellungen. Das Leder ist angenehm weich und der Tragekomfort beim Spielen im stehen entspricht den Angaben in der Produktbeschreibung. Ich kann absolut eine Kaufempfehlung aussprechen.
01/03/2023
Steyner Straps
Herzlichen Dank für die tolle Bewertung. Wir freuen uns sehr, dass der Gurt und allen drum gerum so gut ankommt :-) Viel Freude weiterhin beim Spielen damit. Liebe Grüße, Lina
12/13/2022
Harald P.

Austria
10/11/2022
Christine R.

Germany
guitar strap
Habe jetzt einen wunderschönen zur Gitarre passenden Gurt. Passt und das Spielen macht noch mehr Spaß!
09/29/2022
Thomas L.

Germany
Einwandfrei!
Super Qualität und sehr freundlicher und schneller Service, bin vollauf zufrieden!
09/17/2022
Manfred K.

Germany
Herausragend
Mit dem Gurt bin ich äusserst zufrieden, wie auch mit dem persönlich anmutenden Kontakt und dem tollen Service! Sehr empfehlenswert. Manfred
09/17/2022
Steyner Straps
Danke Manfred, das freut uns sehr zu hören. Liebe Grüße, Lina
08/12/2022
Wolfgang M.

Germany
B-Ware kriegt eine 1
Der schwarze Nappa-Gurt war wegen »kleiner Kratzer« ermäßigt. Ich habe keine Beschädigungen gesehen, wenn Kratzer da waren, gehen die nach einer Woche Benutzung im Grundrauschen unter. Der Gurt ist sehr gut verarbeitet und bequem. Die großen Straplocks sind in der Tat groß, machen sich an meiner Telecaster aber sehr gut, halten sicher und sind leichtgängig beim Öffnen.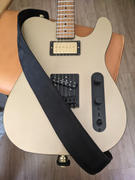 08/14/2022
Steyner Straps
Danke für das Feedback und das tolle Bild. Gurt und die goldenen Straplocks passen ja hervorragend zur wunderschönen Gitarre :-) Klasse. Viel Freude damit.