Leather Bass Strap - Grainy Chestnut Deluxe
Regular price
0 €
Sale price
140 €
Unit price
per
Sale
Sold out
Padded leather bass strap in exclusive vintage look (red-brown)

Beautiful padded leather bass strap in vintage style with pull-up effect and double decorative stitching. Due to the padding, this red-brown guitar strap fits perfectly to the shoulder and provides optimal weight distribution. A must-have for all leather fans!
Features:
Vintage look (pull-up effect)

Non-slip suede leather underside

4 mm foam padding (memory effect)

Soft, thick edges and an elegant feel

Handmade from high quality cowhide leather



You can only get this exclusive design from us!


Please note: Since leather is a natural product, each of our belts is unique in the optical structure. The strap can be coarse- or fine-grained and have a different strong pull-up effect. (see last picture). If a certain structure is important to you, please contact us before buying. Then we will check if we have it in stock.


A matching gift box is available here. > To the gift box
▶ For fastening, we recommend our guitar strap fastener "Small Straplocks" > View Straplocks


Details
Dimensions and structure
Lengh: 129 – 146 cm / 110-128 cm
Width: 6,5 cm / 6 cm
Weight: ca. 200 g
Color leather on top: red brown
Color suede at bottom: dark brown

4 mm foam padding (memory effect)

Stable saddlery thread
Features
Very soft and flexible
Excellent grip
Very comfortable to wear
Very valuable feel and look
Sewn strap hole and double decorative seam
incl. fastening cord
compatible with acoustic, western, bass and electric guitar
Lovingly handcrafted from Portugal
Top class Wearing Comfort
Your shoulders will love this padded leather bass strap!
The strap has a
remarkable wearing comfort
thanks to the soft materials. The
soft strap edge
gently wraps around the neck and shoulder. Furthermore, the sewn-on cotton strap provides a
good grip
. Thus, the strap does not slip back and forth unintentionally. The fastening made of 4 mm thick genuine leather (optionally synthetic leather) ensures a s
table and reliable hold
of your instrument. Thus, you always have full security and can concentrate 100% on playing with your guitar.
Customer Reviews
05/11/2022
Thomas E.

Germany
Tropical Night Deluxe
Hallo ich habe mir diesen, eigentlich für Bass Gitarre ausgelegten Gurt , für meine Musicman gekauft. Die Verarbeitung ist tadellos. Die Gravur entspricht voll und ganz meinen Erwartungen. Rutschfest und sehr fein Strukturiertes Design . Die angefertigten Löcher für die Schaller Locks passten perfekt. Alles in allem ein sehr schöner Gurt . Mal sehen wenn das erste Treffen mit den Kollegen der Band ist. Aber man besitzt ja mehrere Instrumente. aml sehen was noch kommt. Jeir jederzeit gerne wieder. Thomas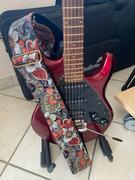 04/30/2022
Markus

Germany
Bin begeistert
Ich habe für meine eher schwere Les Paul aufgrund der Polsterung zu dem etwas breiteren und gepolsterten Bassgurt gegriffen. Der Service vorab um die Custom-Länge abzuklären war super. Lina antwortete mir sehr schnell und sehr freundlich. Der Gurt selbst ist optisch ein absoluter Hingucker und perfekt verarbeitet. Der Tragekomfort ist erste Sahne. Insbesondere bei schwereren Instrumenten wird so auch längeres Spielen sehr viel angenehmer. Absolute Kaufempfehlung!
04/30/2022
Steyner Straps
Vielen lieben Dank für Deine tollen Worte. Das freut uns sehr. :-) Beste Grüße von Lina und dem Steyner Team
04/28/2022
Michael O.

Germany
Ein toller Gurt und eine tolle Firma.
Ich benutze diesen Gurt für E-Gtarre, da ich häufig Schulterprobleme habe. Allerdings habe ich festgestellt, dass die normale Bassgurtlänge hierfür zu kurz ist. Die Änderung war aber überhaupt kein Problem. Der Service ist freundlich, hilfsbereit und schnell. Ich werde nie wieder einen Gurt woanders kaufen.
04/13/2022
Markus H.

Germany
01/02/2022
Karl T.

Germany
Fantastisch!!!
Endlich ein Gurt der zu einem sehr guten Instrument passt. Benutze den Vintage Gurt Eastern De Luxe an meinem Precision und einem Rickenbacker Bass. Beide Bässe sind glänzend schwarz und der Gurt passt fantastisch und ist sehr bequem. Ausserdem rutscht der Gurt durch das spezielle Untermaterial nicht. Ich bin begeistert und es wird nicht mein Letzter sein
01/05/2022
Steyner Straps
Hallo Karl. Ganz lieben Dank für Dein schönes Feedback.Wir freuen uns sehr darüber. Wir stellen uns die Kombination mit einem edlen schwarzen Instrument ebenfalls ziemlich passend vor.:-) Sende gern mal ein Bild, wenn du magst. Liebe Grüße und viel Freude weiterhin damit. Lina
12/17/2021
Sebastian

Germany
12/10/2021
Joachim S.

Germany
Luxusklasse in Haptik, Optik und Verarbeitung
Das ist jetzt der dritte, und wie beide Male zuvor bin ich ausgesprochen zufrieden. Ich befürchte allerdings, daß die Dinger süchtig machen. Es wird noch soweit kommen, daß ich nicht einen neuen Gurt für den Bass kaufe, sondern einen passenden Bass für den nächsten Gurt...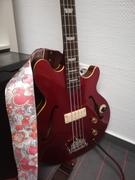 12/10/2021
Steyner Straps
Vielen Dank für Dein tolles Feedback, Joachim. Wir freuen uns natürlich sehr zu lesen, dasss unsere Gurte "süchtig" machen :-) Ganz viel Freude damit. Viele Grüße Lina und die Steyner Crew
12/09/2021
Dirk G.

Germany
Alles bestens
Der Gurt ist sehr hübsch und einwandfrei verarbeitet. Kontakt und Lieferung waren vorbildlich und ausgesprochen freundlich. Von mir eine klare Empfehlung. Habe bereits einen zweiten Gold gekauft
11/24/2021
Sandra S.

Germany
Vintage Bassgurt schwarz - Eastern Nights Deluxe
Der Gurt ist wahnsinnig gut beim Beschenkten angekommen. Für einen über 4 Kilo schweren Bass ist der Gurt die perfekte Unterstützung. Die Verarbeitung der Nähte sind perfekt, alle Materialien sind hochwertig. Der feine Oberstoff, macht zu einem Schwarz lackierten Hochglanz Bass einen super edlen Eindruck. Bei Bewegungen scheint das Licht auf immer unterschiedliche Bereiche des stilsicheren Musters. Die Bandkollegen haben ganz schön "neidisch" geschaut…:) Zu erwähnen ist noch die perfekte Polsterung des Gurtes. Der erfahrene Bassspieler, der den Gurt nun nutzen darf, war schon ganz schön überrascht von der perfekten Polsterung und der guten Ergonomie. Des weiteren möchte ich Lina gerne noch mal für die ausgiebige und sehr gute Beratung bedanken, ich konnte durch sie den Gurt perfekt ausstatten lassen und mir sicher sein, dass alles gut zu sammeln passen wird.