Design Bass Strap Comfort
Regular price
Sale price
$224.00
Unit price
per
Sale
Sold out
Top class padded design bass strap - Handcrafted in Germany
High-end accessory for your bass or guitar!
Are you used to the comfort of thick padded leather straps? Are you now looking for a strap that visually pulls out all the stops, fits gently around your shoulder and gives you long-lasting pleasure? If so, our "Design Bass Strap Comfort" will definitely inspire you. With this guitar or bass strap collection, we offer you a "colorful" alternative to padded leather straps.

With this unique bass strap, you hardly feel the weight of the instrument. Due to the extra wide contact surface of 8 cm, the weight is optimally distributed on your shoulder. The incredibly soft, 14 mm thick velvet padding is the highlight of the strap. It provides an absolutely heavenly wearing comfort. Just like being on clouds.

This bass strap is particularly suitable for players with health restrictions, pain, or chronic complaints. Due to our special padding, you will be able to play for several hours without any discomfort.

This extraordinary padded bass strap combines a unique look with masterful quality, maximum safety, divine wearing comfort, and perfect grip. It is the perfect piece of jewelry for your instrument.
Handmade with perfection down to the slightest detail in our manufactory in Germany. Made to last!

Features:
Shiny appearance (shimmer effect)

Non-slip underside made of cotton

14 mm velvet upholstery


Soft, thick edges and an elegant feel

4 mm thick genuine leather end (vegetable tanned)

2-piece construction (Shoulder pad / Adjustment)


Lovingly handmade in Germany
This extraordinary paaded bass strap you only get from us!

Note: Depending on the incidence of light, the base tone may appear lighter, or sometimes darker.
▶ For fastening, we recommend our guitar strap fastener "Big Straplocks" > View Straplocks
Details
Dimensions and structure
2-piece structure (shoulder rest + adjustment)
Adjustment sewn in 2-layers (cotton + car seatbelt)
Length: 113 - 130 cm (44.5" - 51")
Shoulder pad length: 65 cm
Shoulder pad width: 8 cm
Width adjustment: 5 cm
Weight: 315 g
Thickness: approx. 20 mm
14 mm thick velvet upholstery
Material top: Noble artificial silk fabric

Material bottom: Cotton

Design: Paisley Pattern / Floral Pattern

Colour cotton: black or brown

Color metal parts: Old silver or antique brass

Colour leather: black or reddish brown

4 mm thick genuine leather / imitation leather ends
Features
Very soft and flexible
Excellent grip
Excellent wearing comfort
Unique look and feel
Secure fastening leather end pieces
compatible with acoustic, western, bass and electric guitar
Made in Germany
First-class wearing comfort
Your shoulders will love this padded design bass strap!
The thick
padded bass strap
has a
remarkable wearing comfort
due to the soft materials. The soft strap edge gently wraps around your neck and shoulders. The sturdy bass strap consists of two parts. The shoulder rest and the adjustment. Both parts consist of three and two layers sewn together respectively. The base for the shoulder rest is a sturdy cotton strap that is bonded with a shiny synthetic silk fabric on the front silk and a soft velvet padding on the back. The adjustable section is made of a safety webbing, which we have additionally reinforced with a cotton webbing on the back. This way,
the strap will not unintentionally slip out of the adjustment
. The 4 mm thick leather ends (optionally made of vegetable-tanned genuine leather or vegan synthetic leather) provide a
stable and reliable hold for your instrument
.
Thus, you always have full security and can concentrate 100% on playing with the bass or guitar.
Customer Reviews
02/02/2023
Andre F.

Germany
Luxus den man sich leisten sollte
Es ist der beste Gurt, den ich mir bis jetzt gegönnt habe. Ich mag es eher zurückhaltend im Design, aber es soll trotzdem hochwertig aussehen. Mit der leicht glänzenden Struktur ist dem so. Die Polsterung ist wirklich sehr gut. Das Gewicht verteilt sich sehr gut und der Gurt liegt auch angenehm am Rücken an. Schön ist die einfache Verstellbarkeit. Alles ist sehr sauber verarbeitet und wird wohl sehr, sehr lange halten. Keine Plastikteile, wie sonst so oft bei den grossen Herstellern gesehen. Toll ist die Auswahl der Löcher für die Gurtpins. Fazit: Handarbeit hat ihren Preis, aber sowohl meine Gesundheit als auch auf längere Sicht mein Geldbeutel werden es danken. Klare Empfehlung!
02/03/2023
Steyner Straps
Hallo Andre. Ganz lieben Dank für das tolle Feedback Freut uns riesig Wenn du magst, sende gern mal ein Foto vom Gurt in Aktion. Wir sind immer neugierig, wo sie zum Einsatz kommen dürfen ;-). Liebe Grüße. Lina
01/17/2023
Torsten B.

Germany
Ich steynere!
Ich dachte: Einmal im Leben einen echt handgefertigten Gitarrengurt besitzen. Und dann auch gleich mit Polsterung. Sehr feiner Gurt! Schick und bequem. Habe keinen Cent bereut! Danke Lina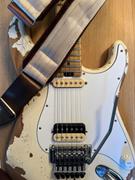 01/21/2023
Steyner Straps
Hallo Torsten. Vielen Dank für das Feedback. Wir freuen uns riesig, dass Du so zufrieden bist. So soll es sein. Liebe Grüße, Lina & die Steyner Crew.
01/17/2023
Mario S.

Germany
Mega Gitarrengurt
Nicht war... ist. Der Gitarrengurt trägt sich sehr komfortabel und sieht super aus. Die Ösen waren etwas schwierig an die Gitarre zu bringen, was aber an dem guten und stabilen Leder liegt. Bin sehr zufrieden. Grüße Mario Schmitt
12/31/2022
Michael T.

Germany
Absolut Perfekter Gurt für meine Gibson Les Paul Custom
In den über 40 Jahren in denen ich jetzt schon Gitarre spiele habe ich noch keinen besseren Gurt gesehen und besessen. Der Gurt ist unglaublich gut verarbeitet und wunderschön. Meine Les Paul hat ca. 4 Kg und der Tragekomfort ist sensationell. Was soll ich weiter sagen, ich vertraue dem Gurt meine Gibson Les Paul Custom, Wert 7000 EUR, an.
01/03/2023
Steyner Straps
Lieber Michael, ganz lieben Dank für das tolle Feedback. Gerade, dass du schon seit über 40 Jahren spielst und daher sicher eine Menge Gurte ausprobiert hast, ehrt uns deine Meinung sehr:-) Da wir immer neugierig sind, wie die Gurte im Einsatz wirken, sende gern mal ein Bild mit dem Gurt und der LP Custom oder eines auf dem auch Du spielst, wenn Du magst. Liebe Grüße, Lina und die Steyner Crew
12/20/2022
Joachim S.

Germany
Alles Bestens, wie bisher jedesmal...
12/18/2022
Niklas S.

Germany
Unfassbar guter Gurt für meine Les Paul
Verarbeitung Oberklasse! Tragekomfort weltklasse! Mehr geht nicht! Die 4kg Les Paul hat sich noch nie so leicht angefühlt! Perfekt! Wird nicht der letzte Gurt gewesen sein!
07/20/2022
Kurt A.

Switzerland
Bassgurt V2 mit Polster, 9.5 cm
Endlich: Meine Schmerzen im Arm und im gesamten Schulterbereich sind Vergangenheit. Nun kann ich wieder stundenlang ohne Beschwerden musizieren. Die war vorher nicht der Fall. Da waren Pausen alle 3/4 Stunde angesagt. Gurt ist preislich schon am oberen Limit, aber wiegt die Vorteile von einem unbeschwerten Spiel bei Weitem auf! Und vielen Dank nochmals für die Musterbilder mit meinem Stingray und den Designvorschlägen!
07/20/2022
Steyner Straps
Lieber Kurt! Herzlichen Dank für Dein Feeback. Es freut uns besonders zu hören, dass deine Beschwerden durch den Gurt vermindern werden und du dadurch einfach länger spielen kannst. Einfach Klasse. Wir wünschen Dir weiterhin ganz viel Freude damit. Liebe Grüße, Lina
07/18/2022
Dirk G.

Germany
Grundsätzlich ein prima Gurt
Grundsätzlich finde ich den Gurt prima. Zum Zeitpunkt des Kaufs war mir nicht klar, dass ein Teil davon ein Nylongurt ist. Kann aber auch mein Fehler sein das ich nicht genau genug geguckt habe. Ich habe schon zwei Steynergurte und die waren jeweils durchgängig. Hinzukommt, dass diese Länge für mich grenzwertig kurz ist. Mir ist klar, dass es auch längere Gurte gibt, aber auch hier gilt, dass die beiden die ich schon habe jeweils lang genug sind , so dass ich denke dieser, mit der Nylonverlängerung, ist kürzer als die anderen Gurte. Der gewebte Teil ist sehr schön und die Polsterung ist sehr angenehm. Viele Grüße Dirk
07/18/2022
Steyner Straps
Hallo Dirk. Vielen Dank für das Feedback. Wir freuen uns, dass dir der Gurt gefällt. Tatsächlich steht im Beschreibunstext der Gurtaufbau detailliert beschrieben. Auch dass der Verstellteil aus Nylon besteht. Ein Bild vom Aufbau ist ebenso vorhanden. Dass der Gurt kürzer ist als die Gitarrengurte liegt daran, dass dieser als "Bassgurt" konzipiert wurde. Da ein Bass sehr eng und weiter oben am Körper getragen wird, ist die Länge eben etwas kürzer. Für Gitarristen die diesen Polstergurt benutzen möchten, bieten wir daher, wie du schon erwähnt hast, die Möglichkeit eine eigene Länge anzugeben. Wenn die Länge zu kurz ist, kannst du ihn gern nochmal zurück senden. Wir möchten, dass du absolut bequem Spielen kannst :-) Wir können die Verstellung für dich dann einfach nachträglich noch Verlängern. Melde dich gern per Email dazu. Liebe Grüße. Lina
07/12/2022
Kristin W.

Germany
Einfach spitze! Meine Schulterachmerzen während dem Spielen gehören der Vergangenheit an! Vielen Dank!
07/14/2022
Steyner Straps
Liebe Kristin! Das freut uns riesig :-) Vielen Dank für das Feedback.
06/27/2022
Hubert R.

Germany
Wiederholungstäter
Ich habe den exakt gleichen Gurt vor Wochen schon einmal bestellt, war so hochzufrieden, dass ich jetzt noch einen zweiten Gurt bestellt habe, da mehrere verschiedene Instrumente in Gebrauch sind. Schnelligkeit, Zuverlässigkeit, Qualität. Besser geht einfach nicht. Jederzeit und gerne wieder.
07/09/2022
Steyner Straps
Lieber Hubert, herzlichen Dank für Deine schönen Worte. Wir freuen uns sehr über Dein schönes Feedback zu unseren Gurten. :-)