Top class non-slip guitar strap made from car seatbelt webbing, black

Double layered guitar strap made of seatbelt webbing and cotton with high slip resistance, classy look, and soft feel. (double layer sewn)
This stylish guitar strap is made of black safety webbing with the classic 4-stripe look and gun metal colored metal parts. The special feature is that we have combined this sturdy nylon strap with a thick cotton webbing on the back. This provides a high slip resistance, fantastic comfort, and durability. The strap features a solid, yet soft feel. It is very sturdy yet remains flexible and is not too heavy. So, buckle up and off we go!
Handmade with perfection, down to the slightest detail, in our manufactory in Germany. Made to last!


Features:
Shiny appearance (shimmer effect)

Non-slip underside made of cotton

Soft, thick edges and valuable feel

4 mm thick genuine leather end (vegetable tanned)
Lovingly handmade in Germany

This high end seatbelt guitar strap you only get from us!
✓ incl. fastening cord
▶ For fastening, we recommend our guitar strap fastener "Big Straplocks" > View Straplocks

Details
Dimensions and structure
Length: 100 - 165 cm (40" - 65")
Width: 5 cm (2")
Weight: 280 g
Thickness: 4 mm
Color seatbelt webbing: black

Color cotton: black

Color metal parts: gun metal

Color leather: black

4 mm thick genuine leather / imitation leather ends
Features
Soft and flexible
Excellent grip
Excellent wearing comfort
Unique look and feel
Secure fastening leather end pieces
incl. fastening cord
compatible with acoustic, western, bass and electric guitar
Made in Germany

Top class Wearing Comfort
Your shoulders will love this anti-slip seatbelt guitar strap!
The strap has a
remarkable wearing comfort
thanks to the soft materials. The
soft strap edge
gently wraps around the neck and shoulder. Furthermore, the sewn-on cotton strap provides a
good grip
. Thus, the strap does not slip back and forth unintentionally. The fastening made of 4 mm thick genuine leather (optionally synthetic leather) ensures a
stable and reliable hold
of your instrument. Thus, you always have full security and can concentrate 100% on playing with your guitar.
Customer Reviews
10/24/2021
David C.

Switzerland
09/28/2021
Ernst R.

Germany
09/12/2021
Ralf H.

Germany
Tolle Qualität, tolles Design!!!
Die Verarbeitungsqualität ist perfekt, Eine Vielzahl an Designs von "blumig" bis "clean", von Stoff bis Leder, sollte für alle Geschmäcker etwas bieten. Alles in Allem ein Gurt, der sich aus der Masse abhebt und auch vom Preis passt. Und dann noch: Support your Local Business. Was will man mehr!!!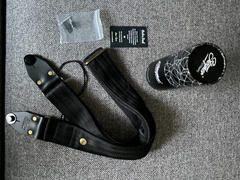 09/12/2021
Steyner Straps
Hallo Ralf, wow! Ganz herzlichen Dank für das schöne Feedback. Das freut uns riesig! Toll, dass Du auch das Bild mit uns teilst. Viel Freude weiterhin damit. Liebe Grüße Lina
08/17/2021
Jürgen O.

Germany
07/18/2021
Peter R.

Germany
06/13/2021
Dirk K.

Germany
Top Qualität - Made in Germany
Wir sind begeistert von der sehr guten Qualität und Design des E-Bass Gurt. Wie er sich trägt können wir erst in ein paar Tagen (mein Sohn Noah) sagen, der neue Eigenbau E-Bass muss erst noch zusammengebaut werden. LG
05/01/2021
Maik M.

Germany
wie immer top
Ist bereits mein 2. Steyner, alle beide top verarbeitet und sehr hochwetiges Material
05/01/2021
Steyner Straps
Vielen Dank für Dein Feedback, Maik :-)
04/26/2021
Pantelis P.

Netherlands
Great first experience!
The Nylon Heavy Harvey strap I ordered is very high quality, sturdy and with attention to detail. I ordered a custom engraving which is quite detailed and very sharp. I am very happy with my first Steyner strap!
04/27/2021
Steyner Straps
Thanks for your feedback. We are happy to hear, that you are satisfied.
04/24/2021
Arno H.

Germany
Ich liebe es, wenn Design, Funkion und Verarbeitung perfekt zusammen funktionieren
Nach dem ich Jahrzehntelang die Stretch-Gurte von No.1 verwendet habe (war mein erster Gitarrengurt 1984) und immer wieder nach Alternativen gesucht und ausprobiert habe, bin ich beinahe verzweifelt. Die No.1 Gurte haben, wegen des Stretch-Materials, nur eine begrenzte Lebenszeit und leiern aus und verlieren ihren halt. Die Gitarre rutscht einem Weg wie eine Wasserleiche. So habe ich in meinem Leben zig von diesen Gurten verschlissen, was auch nicht gerade billig war, und immer nach Alternativen gesucht. Problem: Augenscheinlich wurde die Produktion eingestellt! Kein Ersatz zu bekommen. Und jetzt wird es verrückt: Ausgerechnet Fratzebuch schlägt mir die Steyner Seite vor! Was Lina dort über deren Gurte schreibt, deckt so ziemlich das ab, was die No.1 Gurte erfüllten - außer der Haltbarkeit ;-) – was ich aber in dem einen oder mehreren Punkten, bei denen von mir getesteten Gurten vermisste. Da meine 1984er Ibanez RS530 am dringendsten einen neuen Gurt braucht, habe ich zum Test einfach mal den Seatbelt Gitarrengurt Cruiser Deep Black mit 10mm Löchern für Schaller Strap Locks (haben alle Instrumente bei mir seit dem es die gibt) bestellt. Freitagnacht bestellt, Sonntagabend Versandnachricht: Endgeil! DHL hat zwar etwas gebummelt, aber Donnerstagmorgen war er da. Mittlerweile habe ich den Gurt mit allen meinen 3 Stromgitarren ausprobiert. Fazit: Schaller Locks passen perfekt! Voreingestellte Länge kurioser weise exakt die von meinen No.1 Gurten, wenn die mit der Gitarre ein gefedert sind – auf den Millimeter genau! (Die sind mir unheimlich!!!) Tragekomfort perfekt! Wie bei den Stretchgurten von No.1 spürt man den Gurt fast nicht! Rutschen der Gitarre? Ich habe noch nie meine Gitarren so sicher vor meinen Händen und meiner Nase gehabt! Ein ganz neues, sicheres Spielgefühl! Verarbeitung wie bei einem Morgan Plus 8 (der wurde auch in Handarbeit hergestellt und musste nach England verschifft werden, wenn was an der Karosserie war)! Man sieht und spürt, dass es Handarbeit ist. Keine Fäden, alles Perfekt etc. Aussicht: Ich brauche mehr Gurte! Bei mir hat immer jede Gitarre ihren eigenen Gurt. Eine Frage des Respekts. Die haben schließlich alle eine eigene Seele. Für die RS530 in Transparent Red und komplett schwarzer Hardware (halt 80er Style – auf so einer hat Jakob Hansonis auf Gröhnemeyers "Bochum" den Herzschlag aus Stahl eingespielt) passte der schwarze, puristische Look des Gurtes perfekt - die Seele von der RS530 ist aber eh eher aus Stahl. Das ist mein Arbeitspferd, wenn es technisch wird. Aber meine 1993er Fender Strat Special Edition und meine PRS Mira brauchen was verspielteres. Bei der Mira bin ich mir schon ziemlich sicher: Vintage Gitarrengurt schwarz - Tropical Nights aber mit schwarzem Leder und Gun Metall Ich hasse braunes Leder! Die Ascheimerleute von dem braunen Trommlern 1933 trugen braune Lederstiefel! Bei de Strat liebäugle ich mit dem: Vintage Gitarrengurt weiss - Tropical Sky mit schwarzem Leder Oder Gitarrengurt gewebt Red Rocking Skull Oder…. Und das ist derzeit mein Dilemma! Ich kann mich nicht entscheiden! Die haben soooo viel schöne Gurte… Meine Damen - noch ohne Steyner-Gurte - im Anhang... Liebe Grüße aus Dortmund nach Hamm "umme Ecke" Euer Arno P.S.: @Lina Du solltest bei der Produktbeschreibung noch erwähnen, dass keine Metallteile etc. den Korpus beschädigen können. Ich habe es mit den Schaller Straploocks ausgiebig probiert. Da ist immer der Lederwulst von den Endstücken über den Nieten. Um da was an der Gitarre zu beschädigen muss man sich schon äußerst töffelig oder vorsätzlich anstellen ;-) Wie gesagt Ich liebe es.... (siehe Titel)
04/24/2021
Steyner Straps
Ganz lieben Dank für dieses ausführliche Feedback :-) Wir freuen uns total darüber. :-)))
03/22/2021
Todd V.

United States