Guitar Strap - Ethno Black Deluxe
Regular price
Sale price
$147.00
Unit price
per
Sale
Sold out
Ethnic guitar strap with super comfort, black - beige - Handmade in Germany
The perfect accessory for your guitar or bass!
This non-slip ethnic guitar strap feels like your favorite pair of jeans. It fits like a soft pillow over your shoulder and combines a casual retro look with super soft wearing comfort, masterly workmanship, highest safety, and perfect grip. It is the perfect piece of jewelry for your instrument.

Handmade with perfection, down to the slightest detail, in our manufactory in Germany. Made to last!
Features:
Rough cotton fabric with ethnic pattern

Non-slip underside made of cotton

Soft, thick edges and valuable feel

l4 mm thick genuine leather end (vegetable tanned)

Lovingly handmade in Germany
You can only get this super comfortable ethnic guitar strap from us!
Do you prefer another color? This strap is also available in brown, creme, lightbue, royalblue, red, bordeaux, light green, pink, purple, grey and black.


Please note: Due to the production process, small colored yarn dots may have been woven into the coarse fabric.


▶ For fastening, we recommend our guitar strap fastener "Small Straplocks" > View Straplocks


Details
Dimensions and structure
Length: 100 - 165 cm (40" - 65")
Width: 5 cm (2")
Weight: 170 g
Thickness: 3.5 mm
Material top: 100% coarsely woven cottonfabric

Material bottom: Cotton

Design: Geometric diamond pattern
Base colour: black, creme

Colour cotton: creme

Color metal parts: antique brass
Color leather: black

4 mm thick genuine leather / imitation leather ends
Features
Extraordinary soft and flexible
Excellent grip
Excellent wearing comfort
Unique look and feel
Secure fastening leather end pieces
incl. fastening cord
compatible with acoustic, western, bass and electric guitar
Soft and flexible

Made in Germany

Top class Wearing Comfort
Your shoulders will love this casual ethnic guitar strap!
The strap has a
remarkable wearing comfort
thanks to the soft materials. The
soft strap edge
gently wraps around the neck and shoulder. Furthermore, the sewn-on cotton strap provides a
good grip
. Thus, the strap does not slip back and forth unintentionally. The fastening made of 4 mm thick genuine leather (optionally synthetic leather) ensures a
stable and reliable hold
of your instrument. Thus, you always have full security and can concentrate 100% on playing with your guitar.
Customer Reviews
02/27/2023
Christoph S.

Germany
Wie massgeschneidert
Der Gurt ist hochwertig und passt wie massgeschneidert zu meiner Ibanez PM2 AA.
01/10/2023
Tobias B.

Germany
Alles super
Das ist ein wirklich schöner und wertiger Gurt. Bestimmt nicht mein letzter Gurt von Euch. Macht weiter so!
11/08/2021
René V.

Germany
Perfekte Ergänzung
Der Gurt ist eine Super Ergänzung zu meiner neuen Gitarre, neben der schönen Optik (und auch super Verarbeitung) ist der Gurt angenehm zu tragen. Meine Schulter dankt für die Entlastung ;-)
05/28/2021
Rainer K.

Germany
Sehr gutes Teil
Schnelle Lieferung, sehr gute Verarbeitung und Qualität!
05/24/2021
Tilman H.

Germany
Gewohnt großartig
Als Wiederholungstäter wurde ich auch dieses Mal nicht enttäuscht. Erneut würde ein Spitzenprodukt in erstklassiger Qualität geliefert. Ein traumhaftes Design, verbunden mit hervorragendem Tragekomfort. Ich befürchte fast,dass es auch dieses Mal nicht bei meiner letzten Bestellung bleibt. Das einzige, was mir wirklich Kopfzerbrechen bereitet ist die Frage, welchen Gurt ich mir als nächstes gönne.
05/24/2021
Steyner Straps
:-) Wir freuen uns riesig über Dein Feedback! Vielen Dank dafür! Gerne helfen wir bei der Auswahl des Styles zu Deiner noch gurtlosen Gitarre ;-) Liebe Grüße. Lina
04/24/2021
Herbert B.

Germany
Top wie immer!
Schon der 4. Steyner Gurt. "Never change a winning System." Die Baumwollversion aus erstklassigem Material lässt wieder keine Wünsche offen, wie auch die Webstoffvarianten, die ich schon besitze. Das Leder ist **** und fest und man muss nicht fürchten, dass sie abrutschen. Deswegen 5 Sterne !! Gruß aus HH
10/08/2020
Herr C.

Germany
Gurt der Gurte
Bislang super Erfahrung, sehr schöner Gurt, kam gut verpackt an und so wie beschrieben. Spiele mit dem Gurt nun fast so schnell wie Eddie Van Halen! Fast…
08/22/2020
Luis M.

Germany
Super stylish und bequem
Der Gurt sieht super aus und fühlt sich sehr hochwertig an. Ich finde es gut, dass man die Wahl zwischen echten und veganen Leder hat. Hier kann ich mit gutem Gewissen einkaufen und werde es auch in Zukunft tun
07/30/2020
Frank S.

Germany
Toller Gurt
Dieser Gurt war mein erster den ich bei euch gekauft habe und er hat mich voll überzeugt sodas ich noch 3 wetere bestellt hatte. Überzeugt hat mich die Qualität und das Aussehen. Ich bin Bassspieler und hatte nur breitere Gurte und war überrascht das sie nicht rutschen und bequem sind. Also macht weiter so. Ich kann Steynergurte nur empfehlen....everyday rock n Roll Frank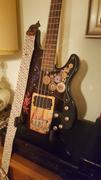 06/13/2020
Claus B.

Germany
Toller Gurt in super Qualität
Wunderschönes Design mit sauberer Verarbeitung, daß farblich hervorragend zu meiner Stratocaster mit ihren aged white-Knöpfen passt. Auch die Fender Straplocks lassen sich problemlos anbringen. Danke an Lina für die gute Beratung! Leute - unterstützt die deutsche Handarbeit!