Impressive paisley bass strap / guitar strap in a class of its own - Made in Germany
The perfect accessory for your beloved bass or guitar!
Do you love bright colors and eye-catching patterns, far from the mainstream? Do you also place high value on quality and comfort? Then our paisley bass strap, "Indian Ocean Deluxe", will surely inspire you. It is 8 cm wide throughout. This noble bass strap is the perfect piece of jewelry for your instrument. The strap combines luxurious design with the highest degree of wearing comfort and perfect grip.
Handmade with perfection down to the slightest detail in our manufactory in Germany. Made to last!
Features:
Shiny appearance (shimmer effect)

Non-slip underside made of cotton

Soft, thick edges and an elegant feel

4 mm thick genuine leather end (vegetable tanned)

Lovingly handmade in Germany

This 8 cm wide bass strap is especially suitable for "big players" who are tired of the annoying adjustment in the back of 2-piece straps. This extra wide strap is also ideal for guitarists who like to be particularly comfortable.
You can only get this extraordinary paisley strap from us!
Do you prefer another color? This strap is also available in beige, lightblue, royal blue, bordeaux, black, pink/fuchsia and green.


Note: Depending on the incidence of light, the base tone may appear lighter, or sometimes darker.
▶ For fastening, we recommend our guitar strap fastener "Big Straplocks" > View Straplocks
Details
Dimensions and structure
Length: 100 - 165 cm (40" - 65")
Width: 8 cm (3") wide throughout

Weight: 320 g
Thickness: 3.5 mm
Material top: Noble artificial silk fabric

Material bottom: Cotton

Design: Paisley pattern

Base colour: royal blue

Accent colors: sunny yellow, blue, beige

Colour cotton: brown

Color metal parts: antique brass
Color leather: medium brown / reddish brown

4 mm thick genuine leather / imitation leather ends
Features
Soft and flexible
Excellent grip
Excellent wearing comfort
Unique look and feel
Secure fastening leather end pieces
compatible with acoustic, western, bass and electric guitar
Made in Germany

Top class Wearing Comfort
Your shoulders will love this paisley guitar / bass strap!
The strap has a
remarkable wearing comfort
thanks to the soft materials. The
soft strap edge
gently wraps around the neck and shoulder. Furthermore, the sewn-on cotton strap provides a
good grip
. Thus, the strap does not slip back and forth unintentionally. The fastening made of 4 mm thick genuine leather (optionally synthetic leather) ensures a
stable and reliable hold
of your instrument. Thus, you always have full security and can concentrate 100% on playing with your guitar or bass.
Customer Reviews
06/18/2021
Rochus

Germany
Ja, doch!
Also gestern ist er gekommen, heute Morgen hab ich die Schaller-S dran geschraubt und alles schön angeschaut und probiert, und jetzt kann ich `meinen Senf` dazu geben! Also erst mal zu den ganzen Lobeshymnen hier: Die Teile kosten auch anständig Geld! Meinungden, welche ich jedoch sehr wohl teile: Die Gurte sind sehr, sehr, sehr schön, sehr praktisch, sehr angenehm am Bass, und, soweit ich das beurteilen kann, handwerklich ordentlich verarbeitet! Ich bereue es nicht , den ungefähr dreifachen Preis, eines sonstigen Ledergurtes, ausgegeben zu haben! Ich bereue es nicht nur nicht, ich freue mich sogar, dass ich es getan habe! Für mich nicht immer maßgebend, aber durchaus beachtenswert: Wird in Deutschland hergestellt und sichert in Deutschland Arbeitsplätze, hoffe ich wenigstens innig ! Was man so liest wird auch Wert auf Wert(igkeit) gelegt, in mehrerlei Hinsicht! Auch das hübsche Säckchen, in dem der Gurt drin war, und den man wohl nie mehr braucht ( ich habs trotzdem mal archiviert. Man könnte es noch herholen , bei einem Verkauf. Aber das wird niemend tun!) Achso: Es handelt bei dem Objekt, welches hier zu bewerten war, um einen Vintage eastern nights deluxe Bassgurt mit Gravur. Ich hab den Gurt mit Gravur bestellt, weil ich befürchte, ein paar unserer Gitarreros, wollen sowas auch haben, im schlechtesten Fall noch dasselbe Motiv! Da erschien es mir voraussschauend, ein solches Teil individuell zu kennzeichnen! Die Gravur ist übrigens nur auf einer Seite der beiden Lederendstücke und ziemlich dezent! Also genau , für was sie gedacht war ! Für mich nur in Fällen der Besitzerermittlung, anzuwenden!
06/18/2021
Steyner Straps
Vielen Dank für das tolle Feedback. :-)
06/05/2021
Michael S.

Germany
Super Bass Gurt
Tolle Verarbeitung , ein sehr schönes Muster und mit dem kannst Du stundenlang spielen! Vielen Dank Micha aus Berlin
05/26/2021
Nicola P.

Italy
My first bass strap
Like my previous Steyner strap the quality it's flawless! Wider and very comfortable you don't even notice you're wearing it!
05/27/2021
Steyner Straps
Dear Nicola, thank you for your feedback. Iam very happy to hear that. Best regards. Lina
05/10/2021
Steffen B.

Germany
Bass Gurt Tropical Nights
Schon beim auspacken ist der erste Eindruck des Gutes "WOW" sieht absolut toll aus und das Design passt perfekt zu meinem Bass. Top Verarbeitung und Qualität. Mein Warwick Corvette Bass ist kein Leichtgewicht, aber durch den breiten Gurt und das angenehme Trage Gefühl dürften auch längere Proben und Gigs kein Problem werden. Mit Sicherheit nicht der letzte Steyner Gurt. Hoffe ein Treffen auf dem Guitar Summit ist dieses Jahr möglich.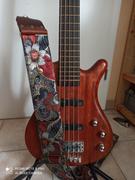 04/29/2021
Ursula R.

Germany
Bassgurt
Ein sehr schönes Produkt Wie immer sehr zufrieden
04/09/2021
Leonardo B.

Italy
04/04/2021
Frank L.

Germany
Sehr schön und top-Qualität
Hohe Qualität, bequem, netter Kontakt und Service. Immer gerne wieder!
04/04/2021
Steyner Straps
Vielen Dank, Frank :-) Wenn Du magst, sende uns gern ein Bild vom neuen Gurt mit Bass:-)
04/03/2021
Pierre B.

Switzerland
Very nice strap
Hi quality material end craftsmanship. This strap sure turns heads wherever I'm playing with it.
04/03/2021
Steyner Straps
Thank you so much, Pierre!
04/03/2021
Peter G.

Germany
04/03/2021
Michael M.

Germany
Absolute Premiumklasse
Ich habe mir für meine PRS CE24 den breiten Komfortgurt in der wunderschönen Orange Juice Optik bestellt. Der Gurt sieht nicht nur umwerfend aus sondern ist auch erstklassig mit viel Liebe zum Detail hergestellt!!! Die Gitarre sitzt am Gurt absolut perfekt und so unglaublich bequem, dass ich hoffentlich bald mal wieder längere Gigs bestreiten kann!!! Absolut empfehlenswert!!!
04/03/2021
Steyner Straps
Hallo Michael, ganz lieben Dank für Dein Feedback. Wie schön, dass Du so zufrieden bist mit dem gepolsterten Gurt :-) Wir drücken die Daumen, dass bald wieder längere Gigs möglich sind.