Paisley guitar strap beige - Indian Ginger
Regular price
Sale price
130 €
Unit price
per
Sale
Sold out
Luxurious paisley guitar strap, beige with floral pattern - Made in Germany
The perfect accessory for your guitar!
You play guitar or bass? Do you attach great importance to quality and comfort? Are you enthusiastic about bright colours and eye-catching patterns? Then you'll be our beige colored paisley guitar strap "Indian Ginger" will surely enchant you. This noble guitar strap is the perfect piece of jewellery for your instrument. The lovingly handmade strap combines luxurious design with the highest wearing comfort and perfect grip. A must-have for all guitarists who want to stand out!

Handmade with perfection down to the smallest detail in our small factory in Germany. Made to last!
Features:
Glossy appearance (shimmer effect)

Non-slip underside made of cotton

Soft, thick edges and valuable feel

4 mm thick genuine leather end (vegetable tanned)

Lovingly handmade in Germany
Unique paisley guitar strap in beige.
The high-quality artificial silk fabric shows a delicate shimmering paisley pattern. Accents in orange, gold and blue form further ornaments. The back consists of a cotton tape. Robust real leather or imitation leather ends and metal parts in vintage brass optics complete the Paisley guitar strap. The soft shimmer of the silk fabric looks extremely luxurious. This makes this beige guitar strap to the absolute eye-catcher.
Your shoulders will love this beige paisley guitar strap!
The strap has an excellent wearing comfort due to the soft and very light materials. The soft belt edge does not cut at the neck. Furthermore, the sewn-on cotton tape provides a good grip. This prevents the strap from slipping back and forth unintentionally. The fastening made of 4 mm thick genuine leather (optionally imitation leather) ensures a stable and reliable hold of your instrument. Thus you always have full security and can concentrate 100% on playing the guitar.

Please note: Depending on the incidence of light, the beige base tone appears sometimes lighter, sometimes darker.

You can only get this beige paisley guitar strap from us!
✓ incl. fastening cord
Specification adjustable 100 - 165 cm (40" - 65") | width: 5 cm (2") | weight: 170 g | compatible with acoustic guitar, western guitar, bass guitar and electric guitar | handmade in Germany
This Paisley guitar strap is also available in black, light blue, dark blue, pink/fuchsia, bordeaux, and green.



We recommend our guitar strap lock "Big Straplocks" for fastening > View Straplocks
Engraving option


Give your guitar, bass or ukulele strap a personal touch
For an extra charge of €15 you can have your strap engraved with a personal text or picture (in black) on the front of the rear leather end. The manufacturing will take about 2 days longer.

This is how it works:
If you have ordered a belt "with an engraving", you will then receive an email with information about the engraving process. Simply reply to this mail with your engraving text and the desired font.




Read more about our > guitar straps and bass straps with engravings
Material & Eigenschaften

Spezifikationen:

Länge: 100 - 165 cm (40" - 65") 
Breite: 5 cm (2")
Gewicht: 170 g
Gurtdicke: 3,5 mm
Grundfarbe: Schwarz / Anthrazit
Akzentfarben: Rot/Orange, Gold, Silber
Farbe Baumwolle: Schwarz
Farbe Hardware: Vintage-Messing
Farbe Leder: Mittelbraun / Rotbraun

Material

Oben: Kunstseidenstoff
Unten: 100 % Baumwolle
Echtlederenden (4 mm): P

flanzlich gegerbtes Rindsleder

Alternativ: Kunstlederenden (2,5 mm): T

extiler Grundträger + Kunststoffbeschichtung

Eigenschaften 

Weich und flexibel
Ausgezeichneter Grip
Hoher Tragekomfort
Sehr wertige Haptik und Optik
Sichere Befestigungsendstücke
inkl. Befestigungskordel
kompatibel mit Akustik-, Western, Bass- und E-Gitarre
Made in Germany 
Hole size

So ermittelst Du die passende Gurtlochgröße:
Da die Art und Größe der Befestigungspins an den Gitarren, Bässen und Ukulelen unterschiedlich sind, bieten wir passend dazu verschiedene Lochgrößen an. So kannst Du Deinen neuen Gurt sofort am Instrument befestigen und losspielen. Zur Ermittlung der richtigen Lochgröße, kannst Du einfach den äußeren Durchmesser des Gurtpins messen.

 

 

Bis 14 mm Außendurchmesser:
Lochgröße: 8 mm ( bei Standard Gurtpin)
Diese Lochgröße ist passend für alle Gitarren, Bässe und Ukulelen mit dem von Haus aus vorinstallierten Gurtpin. In der Regel ist dieser Trichterförmig. Für diese Gurtpins eignet sich daher ein Gurt mit 8 mm Loch und Schlitz auf beiden Seiten.



Ab 15 mm Außendurchmesser:
Lochgröße: 10 mm ( bei Maxi Gurtpin)
Wenige Gitarrenmarken verbauen größere Gurtpins an Ihre Gitarren. Z. B. PRS Guitars. Der innere Durchmesser des Pins liegt bei 9 oder 10 mm. Für diesen Maxi Gurtpin ist ein 10 mm großes Loch, sowie der Schlitz notwendig, um den Gurt über die äußere Scheibe zu stülpen. Der Durchmesser der Scheibe liegt ca. bei 13-15 mm.



Wenn am Endpin ein Kabel eingesteckt wird:
Lochgröße: 10 mm einseitig ( bei Klinkenbuchse)
Wenn Du eine Gitarre mit Tonabnehmer hast, kann es sein, dass der Anschluss für das Kabel gleichzeitig als Gurtpin dient. Um den Gurt auf diesem Anschluss am Korpus zu befestigen ist ein 10 mm Loch mit Schlitz notwendig. Der andere Gurtpin am Hals ist i. d. R. ein Standard Pin mit 8 mm. Bei Auswahl dieser Lochgröße erhältst Du einen Gurt mit 8 mm Loch vorne und 10 mm Loch hinten.



Bei bereits installiertem Gurtsicherungssystem:
Lochgröße: 10 mm ( bei Schaller Locks)
Wenn Du das Gurtsicherungssystem von "Schaller", "Warwick", "Dunlop" oder "Loxx" benutzt empfehlen wir das 10 mm Loch ohne Schlitz. Da das Loch genau über das Gewinde passt ist kein Schlitz notwendig. Diese Variante ist nur als "Genuine leather" verfügbar. Wenn Du veganes Leder möchtest, bekommst Du bei dieser Auswahl das größere Loch mit einem Schlitz.
Versand

Kostenloser Versand ab 50 €

Deutschland
DHL Premium Versand - Kostenlos
(Lieferzeit 1-3 Werktage)

Europa
Standard Versand - Kostenlos  (Lieferzeit 4-9 Werktage)
Priority Versand - 2,99 €  (Lieferzeit 3-7 Werktage)
DHL Express Versand - 35,99 € (Lieferzeit 1-2 Werktage)

Non-EU (zzgl. Einfuhr/Zoll)
Standard Versand - Kostenlos (Lieferzeit 10-19 Werktage)
Priority Versand - 2,99 €  (Lieferzeit 8-12 Werktage)
DHL Express Versand - 35,99 €  (Lieferzeit 3-7 Werktage)

Für weitere Infos findest du hier > Versandbedingungen

Mögliche Zusatzkosten bei Ländern außerhalb der EU:
Bei Lieferungen in Länder außerhalb der Europäischen Union (z.b. Schweiz, USA, Australien, Kanada) können im Einzelfall weitere Kosten anfallen, die wir nicht zu vertreten haben und die von dir zu tragen sind. Hierzu zählen beispielsweise Kosten für die Geldübermittlung durch Kreditinstitute (z.B. Überweisungsgebühren, Wechselkursgebühren) oder einfuhrrechtliche Abgaben bzw. Steuern (z.B. Zölle).

Weitere Informationen findest du beispielsweise unter http://ec.europa.eu/taxation_customs/customs/customs_duties/index_de.htm und zur Einfuhrumsatzsteuer unter http://auskunft.ezt-online.de/ezto/Welcome.do sowie speziell für die Schweiz unter http://xtares.admin.ch/tares/login/loginFormFiller.do.
Customer Reviews
01/29/2023
Hervé B.

France
01/11/2023
Peter N.

Germany
01/05/2023
Michael T.

Germany
What a wonderful Strap !
Das lief bereits wie bei der letzten Bestellung sehr schnell, Montag online bestellt Donnerstag geliefert. Der Gurt ist, wie zu erwarten, absolut perfekt. Den gepolsterten habe diesmal nicht gebraucht, da eine leichte "Fender Acoustasonic US" dran hängen wird. Wie schon beim letzten mal erwähnt, sind das die besten Gurte die ich in den letzten 40 Jahren getestet und besessen habe. Vielen Dank und weiter so, Michael T.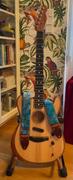 01/07/2023
Steyner Straps
Lieber Michael. Ganz lieben Dank für diese tollen Worte. Klasse, dass Du so zufrieden bist. So soll es sein. Liebe Grüße. Lina & die Steyner Crew
12/29/2022
Damien

France
12/29/2022
Stefan L.

Germany
Ein optisch sehr passender & qualitativ hochwertiger Gurt für die Gibson ES 355
Wow. Wieder ein top Gurt. Dieses Mal für meine Gibson ES 355 Figured Iced Tea. Optisch passt er sehr gut finde ich. Qualitativ wie immer hochwertig. Die Strap Locks funktionieren sehr gut und sind praktisch. Nichts stört optisch oder beim Tragen. Ok, nicht ganz günstig im Preis, aber die Gitarre kann ihn ragen . Ach ja, danke für die gute Beratung beim Kauf und die schnelle und unkomplizierte Abwicklung.
12/20/2022
Stefan R.

Germany
12/18/2022
Caroline v.

Germany
Was ein Hingucker!
Wow ich bin mega begeistert. Ein absoluter Eyecatcher und wirklich das perfekte Geschenk. :) Ich bin mega gespannt was das Geburtstagskind dazu sagt. :) Tausend Dank für die wundervolle Arbeit!
01/03/2023
Steyner Straps
Klasse, dass der Gurt so einen guten Eindruck macht. Wir wünschen ganz viel Freude beim Verschenken. Liebe Grüße, Lina
12/18/2022
Wolfgang M.

Germany
Ein echtes Schmuckstück
Es ist mein vierter Steyner... und auch dieses Mal wurde ich nicht enttäuscht. Erstklassige Materialien und Verarbeitung machen diesen Gurt zu einem echten Kunstwerk und Hingucker. Meine Ditson Mahogany fühlt sich sichtlich wohl damit. Ein großes Dankeschön auch für die perfekte Typberatung vor dem Kauf.
12/18/2022
Roland A.

Germany
Erstklassiger, wunderschöner Gurt!
Das ist jetzt schon mein fünfter Steyner-Gurt und wieder zeigt sich: Ein qualitativ hochwertig gefertigter Gitarrengurt, der zudem super komfortabel ist und mit wunderschönen, strahlenden Farben punktet! Zudem ein toller Service von Steyner und eine Turbolieferung!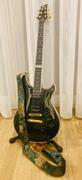 12/13/2022
Edgie S.

Singapore
5 stars is not enough for Steyner #5
Just received my 5th one and my favorite. I think this strap matches most colors, whether gloss or matte. Really loving its understated elegance with the vivid blue that pops out nicely from the black printed background. Thanks again to Lina and her crew for making such a beautiful line of straps.