Stylish guitar strap with rock finish

The classic houndstooth pattern in black and red combined with gun metal colored metal parts and black leather ends makes our Inverness a visually super classy guitar strap with a rocky note..
Handmade with perfection, down to the slightest detail, in our manufactory in Germany. Made to last!
Features:
Fine jacquard woven ribbon

Non-slip underside made of cotton

Soft, thick edges and valuable feel

l4 mm thick genuine leather end (vegetable tanned)

Lovingly handmade in Germany

▶ For fastening, we recommend our guitar strap fastener "Small Straplocks" > View Straplocks


Details
Dimensions and structure
Length: 100 - 165 cm (40" - 65")
Width: 5 cm (2")
Weight: 170 g
Thickness: 2.2 mm
Material top: woven jacquard ribbon

Material bottom: Cotton

Design: houndstooth pattern
Base colour: red, black

Colour cotton: black

Color metal parts: gun metall

Color leather: black

4 mm thick genuine leather / imitation leather ends
Features
Extraordinary soft and flexible
Excellent grip
Excellent wearing comfort
Unique look and feel
Secure fastening leather end pieces
incl. fastening cord
compatible with acoustic, western, bass and electric guitar
Soft and flexible

Made in Germany

Top class Wearing Comfort
Your shoulders will love this guitar strap!
The strap has a
remarkable wearing comfort
thanks to the soft materials. The
soft strap edge
gently wraps around the neck and shoulder. Furthermore, the sewn-on cotton strap provides a
good grip
. Thus, the strap does not slip back and forth unintentionally. The fastening made of 4 mm thick genuine leather (optionally synthetic leather) ensures a
stable and reliable hold
of your instrument. Thus, you always have full security and can concentrate 100% on playing with your guitar.
Customer Reviews
10/16/2021
Tim M.

Germany
10/07/2021
Deliah

Germany
Da geht die Sonne auf...
"Morgenlicht"... Wow! Da könnte man jetzt denken: Gitarrengurte gibt's doch im Netz zuhauf und auch billige, die hübsch anzuschauen sind. Warum dann diese Luxusausgabe? Ganz einfach: Weil's einfach besser ist :-) Dieser Gurt fasst sich toll an, ist leicht anzubringen, lässt sich gut "zurechtzurren" und wirkt wie für die Ewigkeit gemacht. Und über die Optik brauche ich nichts zu sagen, oder? Hab jedenfalls schon einige Komplimente dafür bekommen ;-).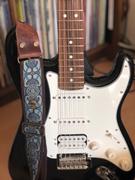 10/04/2021
Thomas D.

Germany
Retro Gitarrengurt Hendrix 2.0
Passt nicht nur hervorragend zu meiner Akustikgitarre. Das Design entführt mich zurück in die 60'er Jahre and I love it. Wieder ein Gurt von Lina und ihrer Crew der mich total begeistert und ich brauche noch einen und noch einen und noch einen... :-)
09/28/2021
Eckhardt G.

Germany
Wunderschöner Gurt und eine Anregung
Gurt trägt sich bequem und ist für mich als Hendrix-Fan ein schönes und bedeutsames Stück Identifikation. Die Stickerei ist sehr sorgfältig verarbeitet und erinnert in ihren Farben an Zeiten, von denen ich weiß, dass sie von heute aus großartig wirken, es für alle darin Lebenden aber nicht einfach waren. Hendrix hatte nach seinem Woodstock-Auftritt, mit dem er selbst nicht zufrieden war, nur wenig mehr als ein gutes Jahr zu leben. — Eine Anregung: Die Metallverriegelung für die Gurte macht leider generell Geräusche. Auf der Bühne stört es nicht, aber zuhause beim leisen Üben. Ließe sich da etwas machen, z.B. eine Kunstoffbeschichtung der kontakthaltenden Bereiche? Ansonsten: Ganz toll. Freue mich jeden Tag schon am Anblick des Gurtes. Danke an Euch!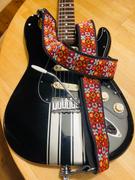 09/21/2021
Ela K.

Netherlands
Beauty strap
The strap was purchased as a gift, I am very pleased with the choice and quality of the product :)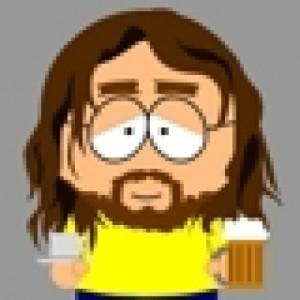 JM
09/08/2021
Joerg M.

Germany
Sehr guter und schöner Ukulelegurt
Der Gurt ist super verarbeitet, fühlt sich toll an und hält sicher. Am Anfang etwas schwer über die Gurtknöpfe zu kriegen aber ist halt gutes, steifes Leder :) Der Stoff ist wunderbar weich und der Druck sieht toll aus. Die Armaturen sind massiv und sehen sehr gut aus. Wird sicher nicht der letzte Gurt, den ich hier kaufe.
09/04/2021
TATSUO K.

Japan
09/04/2021
Klaus F.

Austria
Great Product - Great Customer Service
High quality product, great and unique Design. Always happy to use it.
09/03/2021
Pascal N.

Belgium
Retro Guitar Strap - Eveninglight
This strap is really gorgeous! The jacquard embroidery of the braid is sumptuous. The brown leather ends and brass buckles complement the ensemble perfectly. Great idea to use a blue belt to match the blue details of the braid embroidery! This strap is already a perfection but, if this blue belt were nylon, softer than cotton, this strap would have been an absolute perfection to me!