Retro Guitar Strap - Mr. Anton
Regular price
Sale price
100 €
Unit price
per
Sale
Sold out
Woven Retro Guitar Strap "Herr Anton"
Stylish guitar strap with noble touch
Our charming Mr. Anton shines in the classic diamond design. A finely woven check - Argyle pattern in brown-red-blue tones meets soft cotton webbing. Thick, dark brown genuine leather ends combined with old brass coloured metal parts make this design guitar strap an absolute optical highlight.
This blue / brown retro guitar strap with check pattern you only get from us!
✓ incl. fastening cord
Specification adjustable 100 - 165 cm (40" - 65") | width: 5 cm (2") | weight: 170 g | compatible with acoustic guitar, acoustic guitar, bass guitar and electric guitar | handmade in Germany


To attach the strap we recommend our Guitar Strap Lock "Big Straplocks" > View Straplocks
Customer Reviews
12/15/2021
Thomas P.

Austria
Great guitar strap
clean workmanship and feels very good, thanks for this nice strap ;-)
11/23/2021
Daniel W.

United States
Love These Straps!
These are the best quality straps. Very well made. Will last a lifetime.
11/23/2021
Steyner Straps
Dear Daniel, thanks for your great feedback :-) We are happy that you like it :-)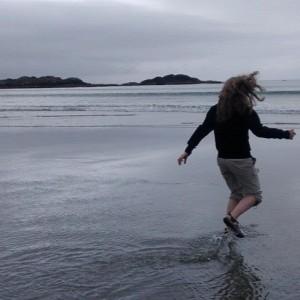 KF
11/15/2021
Karina F.

Germany
Just beautiful
Really well made beautiful strap. The colours are lovely and bright. I got the vegan leather and it looks great! I am already planning which one I would like next
11/08/2021
René A.

Germany
Endlich was passendes
Ich habe schon etwas länger nach einem (optisch) passenden Gurt für meine Westerngitarre gesucht - nun bin ich hier mit dem Hippie Love Retrogurt fündig geworden - Danke dafür! :-) Der Gurt ist auch sehr angenehm zu tragen und liegt federleicht auf der Schulter - bin sehr zufrieden!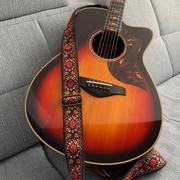 10/28/2021
Olaf S.

Germany
Liebe auf den ersten Blick: Resi!
Meine Höfner 173 habe 1982 gekauft. Nie richtig spielbar eigentlich, dann bald ersetzt. Nach den Jahren hab ich die leider Vernachlässigte aufgearbeitet und machen lassen. Erstmals spielbar! Der erste Gurt war noch vorhanden, aber defekt. Kann man das reparieren? Kontaktaufnahme zu Lina von den Steyner Straps, dann kurzer Besuch im Shop: Resi! Liebe auf den ersten Blick, nix reparieren, ich möchte Resi! Ein traumhafter Gurt, Resis Muster hebelt mich auf wundersame Weise zurück nach 1982, mein Herz klopft. Das Leder ergibt mit dem Ton vom Griffbrett einen optischen Kuss. Keine Liebe für einen Sommer, wir bleiben zusammen. Für immer. Dankeschön ans Steyner-Team für die liebe Kommunikation und die wunderschöne Resi!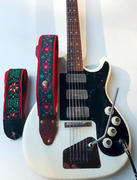 10/22/2021
Lukas G.

Germany
Beste Gitarrengurte in meinem Musikerleben!
Liebes Steyner-Team, da mir nicht nur meine Gitarren sondern auch das ganze Equipment drumherum sehr wichtig ist, ist es nur eine Frage der Zeit gewesen, bis ich auf eure wunderbaren Gurte treffen musste. Ich war nie der Gitarrist, welcher seine 1000,-€ + Gitarren mit einem 8,-€ Gurt versieht. Jahrelang waren meine Gitarren mit Gurten von einem spanischen Hersteller ausgestattet, welche um die 40,-€ gekostet haben. Ich bin auch eigentlich sehr zufrieden gewesen. Diese Gurte waren jedoch aus veganem Leder und der Kleber, welcher die unterschiedlichen Schichten zusammen hielt, wurde mit der Zeit weich, was ich als störend empfunden habe. Nichtsdestotrotz gab es für mich keine Alternative, da mir die Designs gut gefallen haben. Als ich jedoch dann auf eure Seite gestoßen bin, mit diesen wunderschönen Designs, musste ich sofort einen Gurt haben. Dieser hat mich so überzeugt, dass ich mir diesen, Weihnachten habe schenken lassen. Er steht meinem ersten Gurt in nichts nach. Die Verarbeitung ist perfekt, der Service sondergleichen und die Schnelligkeit unübertroffen. Das alles rechtfertigt für mich den Kauf eurer Gurte. Es gibt für mich keine Alternative, weshalb es mit Sicherheit nicht der letzte Gurt gewesen ist. Macht weiter so! Alles Gute, Lukas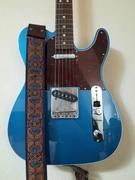 10/23/2021
Steyner Straps
Lieber Lukas! Wow, wir sind ganz sprachlos. Ganz herzlichen Dank für Deine tollen Worte und den ausführlichen Text. Es ist so schön zu lesen, dass unser Anspruch an die Gurte, von Musikern wie Dir, genau auf den Punkt gewertschätzt werden. Das motiviert uns unwahrscheinlich auf unserem Weg :-) Danke, dass Du dies mit uns und anderen teilst und Dir soviel Zeit für Dein Feedback genommen hast. Das bedeutet uns sehr viel. Wir feuen uns sehr, dass Du uns gefunden hast :-) Viele Grüße Lina
10/16/2021
Tim M.

Germany
10/07/2021
Deliah

Germany
Da geht die Sonne auf...
"Morgenlicht"... Wow! Da könnte man jetzt denken: Gitarrengurte gibt's doch im Netz zuhauf und auch billige, die hübsch anzuschauen sind. Warum dann diese Luxusausgabe? Ganz einfach: Weil's einfach besser ist :-) Dieser Gurt fasst sich toll an, ist leicht anzubringen, lässt sich gut "zurechtzurren" und wirkt wie für die Ewigkeit gemacht. Und über die Optik brauche ich nichts zu sagen, oder? Hab jedenfalls schon einige Komplimente dafür bekommen ;-).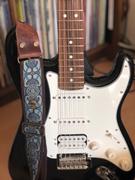 10/04/2021
Thomas D.

Germany
Retro Gitarrengurt Hendrix 2.0
Passt nicht nur hervorragend zu meiner Akustikgitarre. Das Design entführt mich zurück in die 60'er Jahre and I love it. Wieder ein Gurt von Lina und ihrer Crew der mich total begeistert und ich brauche noch einen und noch einen und noch einen... :-)