Woven Retro Guitar Strap "Herr Anton"
Stylish guitar strap with noble touch
Our charming Mr. Anton shines in the classic diamond design. A finely woven check - Argyle pattern in brown-red-blue tones meets soft cotton webbing. Thick, dark brown genuine leather ends combined with old brass coloured metal parts make this design guitar strap an absolute optical highlight.
This blue / brown retro guitar strap with check pattern you only get from us!
✓ incl. fastening cord
Specification adjustable 100 - 165 cm (40" - 65") | width: 5 cm (2") | weight: 170 g | compatible with acoustic guitar, acoustic guitar, bass guitar and electric guitar | handmade in Germany


To attach the strap we recommend our Guitar Strap Lock "Big Straplocks" > View Straplocks
Customer Reviews
04/05/2021
Anja C.

Germany
hochwertiger, sehr schöner Gitarrengurt
Artikel war ein Geschenk und ist sehr gut angekommen. Tolle, leuchtende Farben, sehr gute Verarbeitung. Wahlmöglichkeit zwischen Naturleder und veganem "Leder" ist toll. Super schnelle Lieferung
04/03/2021
Helmut K.

Germany
Sehr guter Service!!!
Immer wieder toller Gurt
04/03/2021
Steyner Straps
03/29/2021
Rafael G.

Germany
Unbeschreiblich gute Qualität
Ich habe selten so ein hochwertiges Produkt gesehen. Die ganze Verpackung etc. sind eine wirklich Experience. Immer weiter so!
03/22/2021
Markus O.

Liechtenstein
Gitarrengurt
Ein richtig toller Gurt tolle Qualität Optisch wie auch funktionell
03/23/2021
Steyner Straps
Vielen Dank, Markus. Das freut uns sehr :-)
03/14/2021
Alex S.

Germany
Absolut top!
Superschön, tolle Materialien, super verarbeitet, super bequem. Dank der 10mm Löcher auch endlich völlig unproblematische Montage von Schaller S-Locks. Ganz nebenbei auch noch Freitag bestellt und Samstag bei mir. Würde gerne 6 Sterne vergeben, geht aber leider nicht :-) Hab den nächsten schon auf der Wunschliste. Die Farbe passt auch wunderbar zur Strat in Lake Placid Blue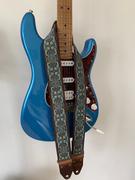 03/14/2021
Steyner Straps
Hallo Alex, ganz lieben Dank für die tolle Bewertung. Das freut uns riesig. Liebe Grüße, Lina
03/13/2021
Jens B.

Germany
Sehr schönes eigenes Design
Sehr gute Verarbeitung und vor allem sehr bequem. Sicher nicht mein letzter Gurt :-)
03/13/2021
Steyner Straps
Danke, Jens. Das freut uns zu hören.
03/11/2021
Christoph N.

Germany
Toller Gurt
Tolles Design, sehr hochwertige Verarbeitung und sehr schicke Farben. Der leuchtet förmlich.
03/10/2021
Ursula R.

Germany
Gitarrengurt
Ein super tolles und schönes Produkt Habe schon einige Gurte bei Ihnen bestellt und stets zufrieden gewesen
03/10/2021
Steyner Straps
Vielen Dank, Ursula! Das freut uns sehr zu lesen :-)
02/19/2021
Tobias S.

Germany
Geiles Teil
Hammergurt!!! Gerne wieder!
02/26/2021
Steyner Straps
Das freut uns sehr :-) Viele Freude weiterhin damit.
02/14/2021
, ,.

Germany
Gitarrengurt
Toller, sehr schöner Gurt. Werde mir noch einen weiteren zulegen