Luxurious paisley guitar strap, light blue with floral pattern - Made in Germany
The perfect accessory for your guitar!
You play guitar or bass? Do you attach great importance to quality and comfort? Are you enthusiastic about bright colours and eye-catching patterns? Then you'll be our light blue paisley guitar strap "Indian Lake" will surely enchant you. This noble guitar strap is the perfect piece of jewellery for your instrument. The lovingly handmade strap combines luxurious design with the highest wearing comfort and perfect grip. A must-have for all guitarists who want to stand out!

Handmade with perfection down to the smallest detail in our small factory in Germany. Made to last!
Features:
Glossy appearance (shimmer effect)

Non-slip underside made of cotton

Soft, thick edges and valuable feel

4 mm thick genuine leather end (vegetable tanned)

Lovingly handmade in Germany
Unique paisley guitar strap in light blue.
The high-quality artificial silk fabric shows a delicate shimmering paisley pattern. Accents in orange, gold and pink form further ornaments. The back consists of a cotton tape. Robust real leather or imitation leather ends and metal parts in vintage brass optics complete the Paisley guitar strap. The soft shimmer of the silk fabric looks extremely luxurious. This makes this light blue guitar strap to the absolute eye-catcher.
Your shoulders will love this light blue paisley guitar strap!
The strap has an excellent wearing comfort due to the soft and very light materials. The soft belt edge does not cut at the neck. Furthermore, the sewn-on cotton tape provides a good grip. This prevents the strap from slipping back and forth unintentionally. The fastening made of 4 mm thick genuine leather (optionally imitation leather) ensures a stable and reliable hold of your instrument. Thus you always have full security and can concentrate 100% on playing the guitar.

Please note: Depending on the incidence of light, the light blue base tone sometimes appears lighter, sometimes darker.

You can only get this light blue paisley guitar strap from us!
✓ incl. fastening cord
Specification adjustable 100 - 165 cm (40" - 65") | width: 5 cm (2") | weight: 170 g | compatible with acoustic guitar, western guitar, bass guitar and electric guitar | handmade in Germany
This Paisley guitar strap is also available in creme, black, light blue, dark blue, pink/fuchsia, bordeaux, and green.



We recommend our guitar strap lock "Big Straplocks" for fastening > View Straplocks
Customer Reviews
10/09/2021
Donna

United States
Just got it
Thank you for the STUNNING guitar strap..!!!..it is truly beautiful. I bought this for my boss for Christmas. Last year we gifted him a dark blue electric guitar. This gorgeous strap will complete the package…. Thank you so very very much..! Greetings from California…. Donna
10/06/2021
WolSchn

Germany
10/06/2021
WolSchn

Germany
Gitarrengurt, der 2.te
Da ich von dem ersten Gitarrengurt begeistert war musste schnellstens der zweite her. Auch hier wie erwartet: Spitzenqualität und tolle Optik, passt perfekt zur Fender . Der dritte Gitarrengurt wurde auch schon bestellt.
10/04/2021
WolSchn

Germany
Begeisterung pur!
Aufgrund einer Produktwerbung bin ich auf die Gitarrengurte von Steyner gestoßen. Nach kurzer Überlegung habe ich mir einen Gurt bestellt. Die Lieferung war superschnell. Ich habe den Gurt an meiner Ortega angebracht und bin hellauf begeistert. Qualität, Optik absolut top und es ist ein Eyecatcher. Das war mit Sicherheit nicht mein letzter Steyner-Gitarrengurt.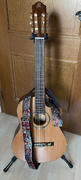 10/03/2021
Marc-André H.

Germany
Mein 4. Steyner Gurt
…das sagt wohl alles. Ich bin angefixt von diesen tollen Gurten. Einfach jeden Cent wert!
09/29/2021
Peter

Switzerland
Der Gurt ist ein Meisterwerk!
Auch mit meinem dritten Kauf eines Steyner Gurts bin ich hoch zufrieden. Die Qualität des Materials und der Verarbeitung lassen keinen Wunsch offen. Ästhetisch schon gar nicht. Hier stimmen die inneren und die äusseren Werte überein. Und ja, der Gurt passt auch an Linkshänder-Gitarren.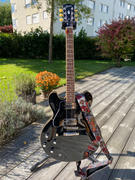 09/22/2021
HEINZ-JUERGEN S.

Germany
Wunderschöner Gurt
Ich bin begeistert von dem Gurt. Er passt super zu meinem 5-String-Banjo. Je nach Lichteinfall verändert sich die Färbung und Musterung des Gurtes ein wenig. Das ist einfach faszinierend. Darüber hinaus glaube ich auch, dass sich auch meine Spieltechnik verbessert hat?!
09/21/2021
Peter J.

Austria
Perfekt
Sehr schöner Gurt - außergewöhnlich!
09/14/2021
Thomas D.

Germany
Einfach grandios, phänomenal und der Beste und Schönste...
...Gitarrengurt den ich jemals besessen habe. Saubere Verarbeitung, super schönes Motiv und richtig leicht und bequem zu tragen. Hier merkt man die Liebe mit der diese Gurte gefertigt werden und das HANDMADE IN GERMANY. Steyner Straps machen (leider) süchtig, :-)) und so habe ich mir schon den nächsten ausgesucht den ich einfach bestellen muss. Danke Lisa, dafür dass Du Deiner tollen Idee Leben eingehaucht hast und bitte bleib uns erhalten.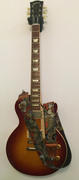 09/21/2021
Steyner Straps
Vielen Dank für Deine tollen Worte, Thomas! Darüber freuen wir uns riesig :-)))) Und keine eine "Steyner Gurt-Sucht" haben wir nichts einzuwenden ;-) Liebe Grüße, Lina
09/10/2021
Theo W.

Germany
Wie immer Top
Sieht genauso aus wie ich ihn mir vorgestellt habe mittlerweile mein fünfter Gurt
09/12/2021
Steyner Straps
Lieber Theo! Vielen Dank für Deine Worte. Schön, dass Du so zufrieden mit unseren Gurten bist :-D Liebe Grüße, Lina