Paisley Bass Strap Blue - Indian Lake Deluxe
Regular price
0 €
Sale price
160 €
Unit price
per
Sale
Sold out
High class bass strap / guitar strap - Made in Germany
The perfect accessory for your bass or guitar!
If for you next to loud colours and eye-catching patterns also high value on Quality and Comfort you're going to get our blue paisley bass belt "Indian Lake. This noble Bass Belt The strap combines luxurious design with the highest wearing comfort and perfect grip.
Handmade with perfection down to the smallest detail in our small factory in Germany. Made to last!

Features:
Shiny surface (shimmer effect)

Non-slip cotton backing

Soft, thick edges and valuable feel

4 mm thick genuine leather end (vegetable tanned)

Lovingly handmade in Germany
With the continuous 8 cm wide Indian Lake Bass Strap Deluxe from Steyner, you can high-quality Bass guitar perfectly without sacrificing wearing comfort, quality, safety and style. This bass strap is especially suitable for "big players" who are fed up with the annoying adjustment in the back of 2-piece straps. Of course, this extra wide strap is also great for guitarists who like it extra comfortable.

This extraordinary strap you only get from us!
✓ incl. fastening cord


To attach the strap we recommend our Guitar Strap Lock "Big Straplocks" > View Straplocks



Details
Dimensions and structure
- 1-part strap
- Length 100 - 165 cm
- Width: Continuous 8 cm
- Weight 320 g
- thickness approx. 4 mm
- Noble side imitation with paisley pattern
- Colors: Beig / Cream, Blue, Silver, Orange
- Colour cotton: Dark brown
- Color metal parts: Old brass
- 4 mm thick genuine leather / imitation leather ends
Features
- Extremely soft and flexible
- Excellent grip
- High wearing comfort
- Unique look and feel
- Secure fastening end pieces
- Compatible with acoustic, western, bass and electric guitars
- Made in Germany
First-class wearing comfort
Your shoulders will love this paisley bass strap!
The strap has a remarkable wearing comfort due to the soft materials. The soft belt edge gently wraps around your neck and shoulders. Furthermore, the sewn-on cotton tape provides a good grip. Thus, the strap does not slip unintentionally. The fastening made of 4 mm thick genuine leather (optionally imitation leather) ensures a stable and reliable hold of your instrument. So you always have full security and can concentrate 100% on playing the bass or guitar.
Customer Reviews
06/06/2022
Hubert R.

Germany
Erwartungen übertroffen
Bin mehr als zufrieden. Der Gurt hat meine Erwartungen bzgl. Aussehen, Verarbeitung, Qualität übertroffen. Jederzeit und gerne wieder. Die Bestellung für einen weiteren Gurt wird demnächst folgen. Bearbeitung: sehr schnell, gute Kommunikation, Lieferung sehr viel schneller, als erwartet bzw. gehofft. Mit Recht 5 Sterne!
05/11/2022
Thomas E.

Germany
Tropical Night Deluxe
Hallo ich habe mir diesen, eigentlich für Bass Gitarre ausgelegten Gurt , für meine Musicman gekauft. Die Verarbeitung ist tadellos. Die Gravur entspricht voll und ganz meinen Erwartungen. Rutschfest und sehr fein Strukturiertes Design . Die angefertigten Löcher für die Schaller Locks passten perfekt. Alles in allem ein sehr schöner Gurt . Mal sehen wenn das erste Treffen mit den Kollegen der Band ist. Aber man besitzt ja mehrere Instrumente. aml sehen was noch kommt. Jeir jederzeit gerne wieder. Thomas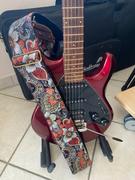 04/30/2022
Markus

Germany
Bin begeistert
Ich habe für meine eher schwere Les Paul aufgrund der Polsterung zu dem etwas breiteren und gepolsterten Bassgurt gegriffen. Der Service vorab um die Custom-Länge abzuklären war super. Lina antwortete mir sehr schnell und sehr freundlich. Der Gurt selbst ist optisch ein absoluter Hingucker und perfekt verarbeitet. Der Tragekomfort ist erste Sahne. Insbesondere bei schwereren Instrumenten wird so auch längeres Spielen sehr viel angenehmer. Absolute Kaufempfehlung!
04/30/2022
Steyner Straps
Vielen lieben Dank für Deine tollen Worte. Das freut uns sehr. :-) Beste Grüße von Lina und dem Steyner Team
04/28/2022
Michael O.

Germany
Ein toller Gurt und eine tolle Firma.
Ich benutze diesen Gurt für E-Gtarre, da ich häufig Schulterprobleme habe. Allerdings habe ich festgestellt, dass die normale Bassgurtlänge hierfür zu kurz ist. Die Änderung war aber überhaupt kein Problem. Der Service ist freundlich, hilfsbereit und schnell. Ich werde nie wieder einen Gurt woanders kaufen.
04/13/2022
Markus H.

Germany
01/02/2022
Karl T.

Germany
Fantastisch!!!
Endlich ein Gurt der zu einem sehr guten Instrument passt. Benutze den Vintage Gurt Eastern De Luxe an meinem Precision und einem Rickenbacker Bass. Beide Bässe sind glänzend schwarz und der Gurt passt fantastisch und ist sehr bequem. Ausserdem rutscht der Gurt durch das spezielle Untermaterial nicht. Ich bin begeistert und es wird nicht mein Letzter sein
01/05/2022
Steyner Straps
Hallo Karl. Ganz lieben Dank für Dein schönes Feedback.Wir freuen uns sehr darüber. Wir stellen uns die Kombination mit einem edlen schwarzen Instrument ebenfalls ziemlich passend vor.:-) Sende gern mal ein Bild, wenn du magst. Liebe Grüße und viel Freude weiterhin damit. Lina
12/17/2021
Sebastian

Germany
12/10/2021
Joachim S.

Germany
Luxusklasse in Haptik, Optik und Verarbeitung
Das ist jetzt der dritte, und wie beide Male zuvor bin ich ausgesprochen zufrieden. Ich befürchte allerdings, daß die Dinger süchtig machen. Es wird noch soweit kommen, daß ich nicht einen neuen Gurt für den Bass kaufe, sondern einen passenden Bass für den nächsten Gurt...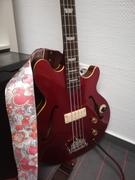 12/10/2021
Steyner Straps
Vielen Dank für Dein tolles Feedback, Joachim. Wir freuen uns natürlich sehr zu lesen, dasss unsere Gurte "süchtig" machen :-) Ganz viel Freude damit. Viele Grüße Lina und die Steyner Crew
12/09/2021
Dirk G.

Germany
Alles bestens
Der Gurt ist sehr hübsch und einwandfrei verarbeitet. Kontakt und Lieferung waren vorbildlich und ausgesprochen freundlich. Von mir eine klare Empfehlung. Habe bereits einen zweiten Gold gekauft