Colorful bag strap with "wild rose" carabiner
Regular price
$122.00
Sale price
$92.00
Unit price
per
Sale
Sold out
Black shoulder strap for quick change with flower pattern
Finely woven shoulder strap with snap hook

and roses patterns

An absolute eye-catcher is our "Wild Rose". This wonderful shoulder strap combines roses and leaves with the classic houndstooth pattern in black and grey tones. Robust snap hooks in old-silver make this unique shoulder strap a real gem. With this strap on your bag you will attract all eyes on you! What are you waiting for?

Replaced in a few seconds, this wide carrying strap provides an individual style.

The strap is a gift? Here you will find a suitable gift box.
Lovingly handmade
Made in Germany

- Shoulder strap adjustable up to 150 cm | width 5 cm
- 2 high-quality, rotating snap hooks
- very soft wearing comfort
- non-slip
- unique colour combination - only available from us
- shoulder strap for handbag, shoulder bag, crossbody bag
Also to find under:
Shoulder strap | Bag Straps | Shoulder Straps
Customer Reviews
02/22/2023
Ranya E.

Germany
02/22/2023
Björn N.

Germany
02/19/2023
Ranya H.

Germany
Eyecandy!
Hervorragend verarbeitet, wunderschön, individuell! Ein Upgrade für jede Tasche.
02/21/2023
Steyner Straps
Lieben Dank für das tolle Feedback. Freut uns riesig :-D
02/16/2023
Frau B.

Germany
02/07/2023
Leonore B.

Germany
Super Design und sehr gute Qualität
Gegenüber vergleichbaren Taschengurten hat dieser ein super Design. Das Material und die Verarbeitung sind sehr gut. Überrascht war ich von der schnellen Zusendung.
02/09/2023
Steyner Straps
Liebe Leonore, herzlichen Dank für das schöne Feedback. Wir freuen uns sehr, dass der Taschengurt so gut ankommt. Liebe Grüße. Lina
01/25/2023
Silvia K.

Germany
Tolles Muster & Farbspiel
Der Gurt von einer meiner Lieblingstaschen ist gerissen... Bei Steyner Straps habe ich den passenden Taschengurt gefunden. Nach einem sehr freundlichen & kompetenten Gespräch kam das Päckchen schon am nächsten Tag an! Ich bin immer noch begeistert von dem schönen Color & der Qualität des Gurts. Er passt super zur Tasche sowie das Tragegefühl ist sehr angenehm! Immer wieder gern! *****
01/25/2023
Silvia K.

Germany
Rosenstolz
Der Gurt sieht wunderschön aus. Habe ihn für ein Taschenprojekt gekauft & vorher lange nach einem passenden Gurt gesucht. Bei Steyner Straps bin ich fündig geworden. Die Ästhetik & die Qualität haben mich überzeugt! Immer wieder gern! ***** Habe noch viele Taschen ;))
01/24/2023
Claudia E.

Germany
01/19/2023
Caroline R.

Germany
Super Schönes Einzelstück
Zuerst war ich im Zweifel, ob ich mir den Gurt leisten soll und ob das noch verhältnismäßig ist für so ein Teil. Mein Mann hat ihn mir dann zu Weihnachten geschenkt, und was soll ich sagen: er ist wunderschön und etwas ganz Besonderes. Passt super zu meiner Tasche und trägt sich angenehm. Ich bereue nichts!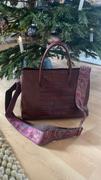 01/18/2023
Anja R.

Germany
one of a kind
Der Skull-Gurt ist wirklich wunderschön und passt mehr als perfekt zu meiner Tasche mit Schädel- und Rosenmotiv. Danke, ich hoffe dass er sehr lange halten wird.