Top class padded design bass strap - Handcrafted in Germany
High-end accessory for your bass or guitar!
Are you used to the comfort of thick padded leather straps? Are you now looking for a strap that visually pulls out all the stops, fits gently around your shoulder and gives you long-lasting pleasure? If so, our "Design Bass Strap Comfort" will definitely inspire you. With this guitar or bass strap collection, we offer you a "colorful" alternative to padded leather straps.

With this unique bass strap, you hardly feel the weight of the instrument. Due to the extra wide contact surface of 8 cm, the weight is optimally distributed on your shoulder. The incredibly soft, 14 mm thick velvet padding is the highlight of the strap. It provides an absolutely heavenly wearing comfort. Just like being on clouds.

This bass strap is particularly suitable for players with health restrictions, pain, or chronic complaints. Due to our special padding, you will be able to play for several hours without any discomfort.

This extraordinary padded bass strap combines a unique look with masterful quality, maximum safety, divine wearing comfort, and perfect grip. It is the perfect piece of jewelry for your instrument.
Handmade with perfection down to the slightest detail in our manufactory in Germany. Made to last!

Features:
Shiny appearance (shimmer effect)

Non-slip underside made of cotton

14 mm velvet upholstery


Soft, thick edges and an elegant feel

4 mm thick genuine leather end (vegetable tanned)

2-piece construction (Shoulder pad / Adjustment)


Lovingly handmade in Germany
This extraordinary paaded bass strap you only get from us!

Note: Depending on the incidence of light, the base tone may appear lighter, or sometimes darker.
▶ For fastening, we recommend our guitar strap fastener "Big Straplocks" > View Straplocks
Details
Dimensions and structure
2-piece structure (shoulder rest + adjustment)
Adjustment sewn in 2-layers (cotton + car seatbelt)
Length: 113 - 130 cm (44.5" - 51")
Shoulder pad length: 65 cm
Shoulder pad width: 8 cm
Width adjustment: 5 cm
Weight: 315 g
Thickness: approx. 20 mm
14 mm thick velvet upholstery
Material top: Noble artificial silk fabric

Material bottom: Cotton

Design: Paisley Pattern / Floral Pattern

Colour cotton: black or brown

Color metal parts: Old silver or antique brass

Colour leather: black or reddish brown

4 mm thick genuine leather / imitation leather ends
Features
Very soft and flexible
Excellent grip
Excellent wearing comfort
Unique look and feel
Secure fastening leather end pieces
compatible with acoustic, western, bass and electric guitar
Made in Germany
First-class wearing comfort
Your shoulders will love this padded design bass strap!
The thick
padded bass strap
has a
remarkable wearing comfort
due to the soft materials. The soft strap edge gently wraps around your neck and shoulders. The sturdy bass strap consists of two parts. The shoulder rest and the adjustment. Both parts consist of three and two layers sewn together respectively. The base for the shoulder rest is a sturdy cotton strap that is bonded with a shiny synthetic silk fabric on the front silk and a soft velvet padding on the back. The adjustable section is made of a safety webbing, which we have additionally reinforced with a cotton webbing on the back. This way,
the strap will not unintentionally slip out of the adjustment
. The 4 mm thick leather ends (optionally made of vegetable-tanned genuine leather or vegan synthetic leather) provide a
stable and reliable hold for your instrument
.
Thus, you always have full security and can concentrate 100% on playing with the bass or guitar.
Customer Reviews
08/02/2021
Andre F.

Germany
Ein Traum in Optik und Comfort
Da es mit dem zuerst bestellten Ledergurt ein Problem gab meldete ich mich per Email bei Lina. Es begann eine in Tempo und Freundlichkeit bemerkenswerte Kommunilkation. Im Ergebnis empfahl mir Lina einen Bassgurt. Der kam von einen Tag auf den anderen und schmückt nun meine kopflastige D' Angelico. Ein aussergewöhnlich schöner und bequemer Gurt für eine besondere Gitarre. Ich wünsche Lina und Ihrem Team von Herzen weiterhin Erfolg. So herzlich und zuvorkommend! Ja, der Preis ist eine Ansage. Aber Lina und Ihr Team sollen von Ihrer Arbeit leben können und das Material ist hochwertig. Ich denke, das war nicht der letzte Gurt von Euch!
07/26/2021
Patrik H.

Germany
07/20/2021
Ludwig S.

Germany
Bester Bassgurt
Edles Handwerk, perfekt ausgeführt, polstert für meine Schulter optimal, ist ein echter Hingucker, das Design muss einem natürlich gefallen, die Farben kann ich nicht mit jedem meiner Bässe kombinieren, deswegen gibt's jetzt noch einen Zweiten . Der Gurt erfreut mich jedes Mal von Neuem!
07/17/2021
Steyner Straps
Ganz lieben Dank für das schöne Feedback :-) Es freut uns sehr, dass Du so zufrieden bist :-) Sende uns gern mal ein Bild, wenn Du magst. Viele Grüße in die Schweiz. Lina
07/03/2021
Hans-Günter K.

Germany
Es war schon immer etwas teurer einen besonderen Geschmack zu haben
Habe den Bassgurt für meine Gitarre bestellt, breitere Auflage, bessere Gewichtsverteilung. Der Gurt ist gut, habe deutlich weniger Rückenschmerzen, könnte ein bißchen besser konstruiert sein, der Verstellteil ist etwas "einfach". Aber was soll's, siehe Überschrift. Ein kleiner Abzug in den Punkten für den happigen Preis, Service ist exzellent und ausnehmend zuvorkommend.
06/18/2021
Rochus

Germany
Ja, doch!
Also gestern ist er gekommen, heute Morgen hab ich die Schaller-S dran geschraubt und alles schön angeschaut und probiert, und jetzt kann ich `meinen Senf` dazu geben! Also erst mal zu den ganzen Lobeshymnen hier: Die Teile kosten auch anständig Geld! Meinungden, welche ich jedoch sehr wohl teile: Die Gurte sind sehr, sehr, sehr schön, sehr praktisch, sehr angenehm am Bass, und, soweit ich das beurteilen kann, handwerklich ordentlich verarbeitet! Ich bereue es nicht , den ungefähr dreifachen Preis, eines sonstigen Ledergurtes, ausgegeben zu haben! Ich bereue es nicht nur nicht, ich freue mich sogar, dass ich es getan habe! Für mich nicht immer maßgebend, aber durchaus beachtenswert: Wird in Deutschland hergestellt und sichert in Deutschland Arbeitsplätze, hoffe ich wenigstens innig ! Was man so liest wird auch Wert auf Wert(igkeit) gelegt, in mehrerlei Hinsicht! Auch das hübsche Säckchen, in dem der Gurt drin war, und den man wohl nie mehr braucht ( ich habs trotzdem mal archiviert. Man könnte es noch herholen , bei einem Verkauf. Aber das wird niemend tun!) Achso: Es handelt bei dem Objekt, welches hier zu bewerten war, um einen Vintage eastern nights deluxe Bassgurt mit Gravur. Ich hab den Gurt mit Gravur bestellt, weil ich befürchte, ein paar unserer Gitarreros, wollen sowas auch haben, im schlechtesten Fall noch dasselbe Motiv! Da erschien es mir voraussschauend, ein solches Teil individuell zu kennzeichnen! Die Gravur ist übrigens nur auf einer Seite der beiden Lederendstücke und ziemlich dezent! Also genau , für was sie gedacht war ! Für mich nur in Fällen der Besitzerermittlung, anzuwenden!
06/18/2021
Steyner Straps
Vielen Dank für das tolle Feedback. :-)
06/05/2021
Michael S.

Germany
Super Bass Gurt
Tolle Verarbeitung , ein sehr schönes Muster und mit dem kannst Du stundenlang spielen! Vielen Dank Micha aus Berlin
05/26/2021
Nicola P.

Italy
My first bass strap
Like my previous Steyner strap the quality it's flawless! Wider and very comfortable you don't even notice you're wearing it!
05/27/2021
Steyner Straps
Dear Nicola, thank you for your feedback. Iam very happy to hear that. Best regards. Lina
05/10/2021
Steffen B.

Germany
Bass Gurt Tropical Nights
Schon beim auspacken ist der erste Eindruck des Gutes "WOW" sieht absolut toll aus und das Design passt perfekt zu meinem Bass. Top Verarbeitung und Qualität. Mein Warwick Corvette Bass ist kein Leichtgewicht, aber durch den breiten Gurt und das angenehme Trage Gefühl dürften auch längere Proben und Gigs kein Problem werden. Mit Sicherheit nicht der letzte Steyner Gurt. Hoffe ein Treffen auf dem Guitar Summit ist dieses Jahr möglich.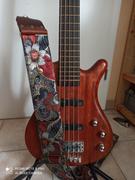 04/29/2021
Ursula R.

Germany
bass strap
Ein sehr schönes Produkt Wie immer sehr zufrieden